Paul Tisdale: Exeter City players unaffected by contract talk, says manager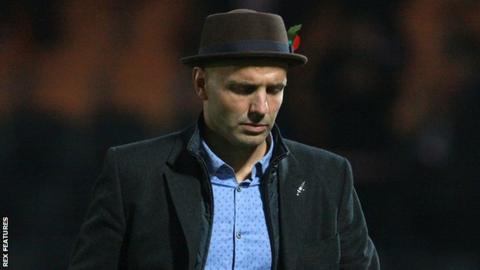 Exeter City manager Paul Tisdale says uncertainty surrounding his contract at the club is not affecting his players.
The club's Supporters' Trust, who own the League Two side, passed a motion in October to try to renegotiate Tisdale's contract.
"The players also know that I'm not going tomorrow," Tisdale said.
"It's more of a strategy thing and there's a lot of water to pass under the bridge before it would come to that," he told BBC Sport.
Tisdale, who took over as Exeter manager in 2006, is the longest-serving manager in the EFL, with Arsenal boss Arsene Wenger the only manager in England's top four divisions to have been in charge at a club for a longer period.
He agreed a two-year rolling contract with the club in 2008, and the motion calls on the club's board to confirm if Tisdale has a notice period in his current deal, and if so to serve notice on it and negotiate a new one.
"An owner is entitled to look at the contracts of an employee, that hasn't changed from day one," Tisdale said.
"It hasn't affected much here in terms of the way we're working, the players, the spirit, everyone's behind each other."