Aubameyang dropped for "internal reasons"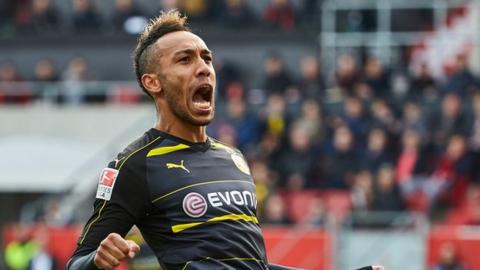 Borussia Dortmund's key striker Pierre-Emerick Aubameyang was dropped from the squad shortly before the kick-off of their Champions League match against Sporting on Wednesday for "internal reasons", the club said.
In-form Aubameyang, who has netted three times in three matches in the competition, had been expected to start against Sporting.
But coach Thomas Tuchel said he had no choice but to drop the Gabon international.
Dortmund went on to secure their place in the knock-out stage with a 1-0 win over the Portuguese side.
"It is an internal issue and will remain an internal issue," Tuchel said when asked about what had happened.
He refused to say whether it was for disciplinary reasons but said "there was no other choice" than to drop his best striker.
"The decision was taken (internally) yesterday [Wednesday] afternoon.
"There was no other choice," Tuchel said. "But now this issue is closed."
Club CEO Hans-Joachim Watzke told ZDF television that the striker would be back in the squad on Saturday for the Bundesliga game against Hamburg SV.
"The internal reasons are exactly that, internal," Watzke said.
"I will not say anything. But the good thing is he will be fresh against Hamburg. He will be back in the squad against Hamburg."