Adam Murray: Mansfield Town manager pledges future to League Two club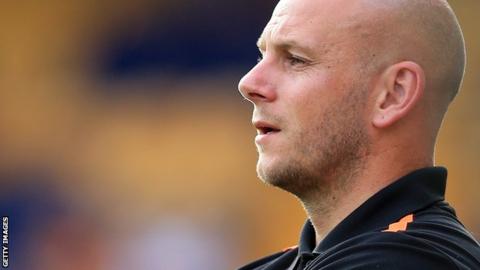 Mansfield Town manager Adam Murray has pledged his future to the League Two club following reports he could quit.
The former Stags midfielder said he would not take personal abuse after he was booed by supporters during Saturday's home defeat by Stevenage.
But Murray insisted he was going nowhere following a meeting with club owner John Radford.
"On Saturday, it was probably blown out of proportion by yours truly because of my passion and my care," he said.
"As long as I believe we can progress, I will continue to do that. I'm not going anywhere for a long while."
Murray, who has been with Mansfield as player and manager since 2010, is to meet with supporters on Thursday after offering appointments to question him in person.
"The chairman believes in what we have done and what we're doing," Murray told the club website.
"He backs me to the hilt and [tells me] to basically get on with it and stop pussyfooting around."