Scottish FA's Stewart Regan prepared to defend poppy stance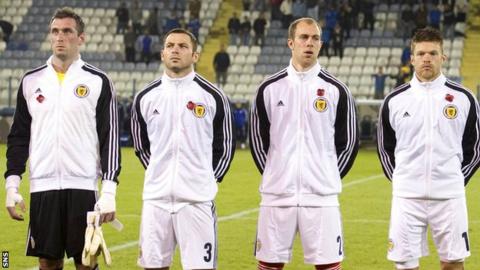 The Scottish Football Association is prepared to challenge any Fifa sanction imposed for Scotland players wearing poppies on armbands at Wembley, its chief executive has told BBC Scotland.
The SFA and the FA are likely to fall foul of Fifa rules when the players display poppies at the England-Scotland match next Friday - Armistice Day.
"We think that Fifa is misinterpreting the rules and we would be prepared to challenge that," said Stewart Regan.
"It's not a political statement."
Regan says his organisation will point to a precedent involving the Scotland team to help make its case for there being no contravention of law four of the rules formulated by the International Football Association Board (Ifab), a body which comprises the four British FAs and Fifa.
In Armistice Day in 2011, Scotland players wore poppies on armbands and on their tracksuits in a match against Cyprus.
"Back in 2011 exactly the same issue was requested," said Regan of the display in Larnaca.
"It was an armband with a poppy worn by the players and it was approved by Fifa, so on that basis we are not asking for anything that hasn't been done before."
Laws of the game
Law four states: "Equipment must not have any political, religious or personal slogans, statements or images.
"Players must not reveal undergarments that show political, religious, personal slogans, statements or images, or advertising other than the manufacturer's logo.
"For any infringement the player and/or the team will be sanctioned by the competition organiser, national football association or to be justified by Fifa."
Regan is adamant that wearing a poppy in the World Cup qualifier on 11 November will not break any part of the rule.
"Law Four is very clear but what we're saying on this occasion is that wearing an armband with a poppy on is not a breach," he said.
"If we wear a poppy, we will be wearing something that is about peace and remembrance.
"We've discussed the matter with the FA and we believe it is the right thing to do.
"This is about remembering those who have lost their lives in the war and doing what is right for the loved ones of those people involved."
Asked if he had taken legal advice on the SFA's stand, Regan said: "Yes, we've discussed it within the International FA Board.
"Let's not forget that Scotland and England are founding members of the International FA Board, the body that actually manages the rules, the laws in football."
'Powerful symbol of remembrance'
Regan described references to "Fifa bans" as "nonsense" and told BBC Radio Scotland listeners that by issuing the players with poppy armbands "we are running the risk of a complaint being issued against us that would be heard by Fifa's disciplinary panel".
He continued: "We are prepared to defend this, knowing that it has happened previously and knowing that law four wasn't intended to catch these kind of issues. We feel confident defending our position and doing what is right for Armistice Day.
"When the camera pans along the line of players and the images are beamed around the world, and the players are seen to be displaying a poppy on the armband, that's a very powerful symbol of remembrance."