Joey Barton: Danny Mills sees difficult road for former team-mate at Rangers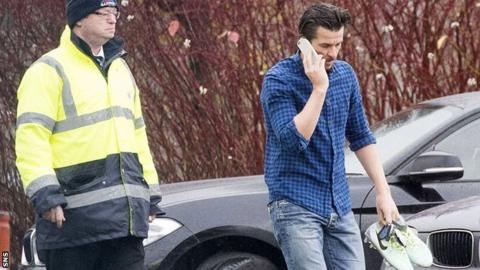 Danny Mills believes life will be "very, very difficult" for Joey Barton as he returns to training at Rangers.
Barton, 34, arrived at the club's Auchenhowie training base on Thursday after a recent club-imposed suspension.
But Mills expects his "complex" former Manchester City team-mate to be training away from the first team.
"I think training with the kids will frustrate Joey," Mills told BBC Radio Scotland's Sportsound. "That's the plan."
Midfielder Barton joined Rangers on a two-year deal after leaving Burnley under freedom of contract. At Turf Moor, Barton helped the Clarets achieve promotion to the Premier League by winning the Championship.
His move to Ibrox also followed spells with first club Manchester City, Newcastle, QPR, Marseille and a solitary England cap in 2007.
But, after eight appearances, a training-ground row with Andy Halliday as Rangers players reviewed the 10 September 5-1 loss to Celtic resulted in Barton's ban.
"Complex to the nth degree," said Mills when asked to describe Barton.
"Joey's very, very difficult to understand at times. I got changed next to him every day for four, four-and-a-half years, whatever it was at Manchester City; was there every time things went wrong.
"He's a very, very good footballer. I've said before I don't think he's as good as he thinks he is and he expects everybody else to be as good as he thinks he is. That's one of his problems.
"Occasionally, a switch goes and he just goes off track and he has no empathy, no remorse for his actions.
"From being on the outside, it seems quite clear that Rangers are trying to freeze him out, trying to upset him. I've been in a similar situation before, I've seen it happen. I think it's going to be very, very difficult for him."
'Exemplary at Burnley'
Burnley manager Sean Dyche featured on a BBC Radio 5 live programme with Mills last month and would not be drawn on the prospect of Barton returning to Turf Moor.
"He [Dyche] said his behaviour was exemplary [at Burnley]," Mills explained. "If people were trying to kick him off the park every week, he didn't rise to that bait at all.
"He can behave himself and do very, very well to a point and then one day, he will just snap. In his own head, he probably feels he hasn't done anything wrong and he hasn't got anything to apologise for, therefore he refuses to apologise."
And Mills feels Barton needs to get a move in the January transfer window for both his and Rangers' benefit.
"If he doesn't get a move in the window, that's when I think all parties will have to really look at the situation because that's when I think it could turn volatile," added the former England defender.
"If there's a move on the horizon and suddenly it doesn't come off, he's going to be doubly disappointed, having to go back in January or end of January and not have had that move and training with the kids, that could just tip him over the edge."