Man City controlled Barcelona - Ilkay Gundogan on 3-1 Champions League win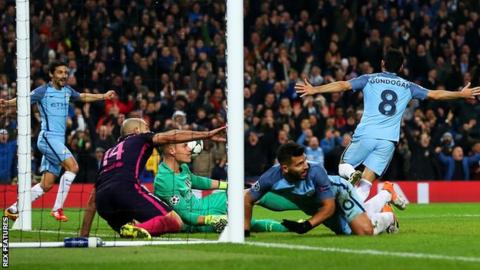 Manchester City's Ilkay Gundogan said his side "controlled Barcelona" and "could have won 4-1 or 5-1" in their Champions League group game.
The Germany midfielder scored twice in a 3-1 win on Tuesday to boost their chances of reaching the last 16.
"It was definitely a big win for us. For me, what was important was our performance in the second half after we equalised at half-time," he said.
"We did a very good job and had a few more chances to score goals."
City went 1-0 behind to a Lionel Messi goal but Gundogan levelled before half-time and Kevin de Bruyne and Gundogan scored after the break to secure a famous win.
City are two points behind Group C leaders Barcelona with two games remaining.
Asked if City manager Guardiola - the former Barca boss - spoke much at half-time, Gundogan said: "No, he just tells us what he can see from the bench and what he can see on the field, what we can improve.
"He was not angry. He knew it would be difficult because it's nearly impossible to control players like Messi, Suarez and Neymar for 90 minutes."
Gundogan played in Borussia Dortmund's 2013 Champions League final defeat by Bayern Munich.
He added: "Everything is possible. We didn't expect with Dortmund to go to the final, to beat Real Madrid in the semi-final, so everything takes its development."
'We had to pretend it wasn't Barca'
City striker Sergio Aguero said: "If you give them the time and the space to think, they will beat you.
"You always have to respect Barca and any team would respect that, but we had to pretend that it wasn't Barca and try to play how we know, and win, which was the most important thing."