Olympic Stadium: 'From feelgood Games to grand folly?'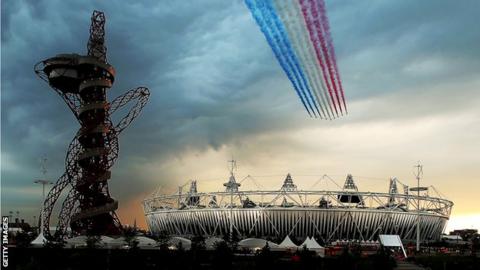 The resignation of David Edmonds, chairman of the London Legacy Development Corporation (LLDC), is just the latest episode in what has now become one of the longest-running, vexing and expensive controversies in British sport.
And with the city's mayor ordering an inquiry into the former Olympic Stadium's finances after the vast cost of converting it into West Ham's new home continued to spiral by another £50m, and mounting questions over its suitability as a football venue after recent fan disorder, the danger now is that the iconic centrepiece of 2012's 'Golden Games', rather than being an enduring symbol of inspiration, sporting glory, and legacy, instead becomes one of chronic waste, poor planning, and mismanagement. A symbol not of celebration, but of anger.
Anger - from London taxpayers who look set to foot the bill for extra costs that appear out of control, and who now read that the stadium's board members were warned this year that the venue may never make a profit, despite original pledges to the contrary.
From freedom of information campaigners, who had to fight for years before winning a battle to have details of the secret deal with West Ham made public.
From the fans of other clubs - who feel threatened by what they see as an over-generous deal that has enabled West Ham to offer significantly cheaper tickets, and attract new fans towards Stratford.
From the LLDC itself - whose attempts at regeneration have been overshadowed. Jobs have been created, affordable homes built, and a polluted corner of East London cleaned up. The velodrome and aquatics centre are in use and the kind of white elephants that blight Olympic parks in former host cities have been avoided. But right now, few are thinking about the positives.
From West Ham, whose plans for their historic first season in their impressive new home had already been tarnished by the violent scenes at recent matches. And who will now find themselves under growing pressure to pay more to help bail the LLDC out, exacerbating rising tensions between tenant and landlord.
And from many others, of course, who cannot understand why the stadium was not designed for football in the very beginning, therefore saving some of the £750m that has now been lavished on a venue that was originally intended to cost just £280m, but which effectively, has had to be built twice.
So what happens next?
To start, there is West Ham's next game against Stoke City this weekend. The stakes are high. The match is one of just a handful each season rated as 'Category C' - or high risk, and security has been beefed up with police on the segregation line inside the stadium for the first time, a clear show of strength. Despite the scenes of disorder during the League Cup match against Chelsea, I understand the authorities were actually relatively pleased with the stewarding, and relieved how few arrests had to be made for a game they had been very concerned about.
Nonetheless, while the threat of being forced to play behind closed doors is understood to be a long way off, West Ham are now desperate to avoid any repeat, and are highly frustrated that permission to gradually expand their capacity has been delayed as a result of the trouble. West Ham reject the suggestion from some that the design of the stadium has in some way contributed to the trouble, and were pleased with the atmosphere against Chelsea until things turned nasty, but the costs of the enhanced security - paid for by the taxpayer - are also now soaring.
And talking of money, there is the inquiry, which is expected to focus on the LLDC's choice of contractor responsible for installing and operating the crucial retractable seating that brings fans closer to the action in a venue originally designed for athletics.
My understanding is that a desire to stage Rugby World Cup matches at the stadium in 2015 placed unforeseen pressure on the LLDC, requiring them to have the seating in place several months earlier than they had originally anticipated. This in turn influenced the fateful decision to hire contractor Alto Seating. The company went bust shortly before the tournament and an alternative provider then had to be sought, the LLDC since discovering to its horror, that rather than the £300,000 originally quoted for manually moving thousands of seats on wheels, costs could rise to £8m a year.
Privately, the LLDC accept this amount is unsustainable, and say they are committed to finding a cheaper solution. The installation of a more efficient hydraulic system will be looked at, along with a review of other running costs. Revenue from a naming-rights sponsor would help of course, but talks with Indian company Mahindra recently collapsed, and after trying for years without success to find a partner, there seems little prospect right now of an alternative.
West Ham - who paid £15m towards the cost of converting the stadium (which now amounts to £323m), could be asked to help of course. After all, last year a BBC London documentary revealed that while paying £2.5m a year in rent, the club would have all of its running costs covered. However, there is nothing in the tenancy agreement to force West Ham to pay any more than they currently do. This fiasco is not their responsibility. Many say the riches of the Premier League easily enable West Ham to step in. This year the club recorded a profit of £8m on record revenues of £120m. But others do not see why the club should be punished for doing its job, and for striking such a good deal for itself.
Either way, with the retractable seats taking much longer to move than originally thought, (15 days rather than five) the fear is that the staging of summer concerts and events - crucial to the stadium's finances - and the start of the football season - could be affected.
How did it come to this?
It was fascinating listening to Ken Livingstone, who was London mayor when the right to stage the London Games was won in 2005, and part of the 2012 bid team, on BBC 5live this week.
Livingstone said that he would have tried to keep the stadium purely for athletics as originally intended, and blamed what he called a "screw up" on his successor Boris Johnson. Once elected in 2008, Johnson decided that instead of the scaled-back 25,000-seater athletics facility that had been planned, the Olympic Stadium needed a football tenant to be financially viable.
But when asked if there had been any stadium legacy plan in the original bid put forward by himself, London 2012 chairman Lord Coe and former Prime Minister Tony Blair, his answer was stark.
"No" he admitted. "Because nobody assumed we were going to win. Seb Coe, and me and Tony Blair, we knew it was going to be very close, it had already cost us millions to put together a bid… you weren't going to spend millions more planning what to do afterwards."
Sadly, it now appears that lack of legacy planning at the start of this saga has ended up costing many more hundreds of millions, years down the line.
With Coe having promised the IOC - and Lamine Diack, the man he hoped to replace as IAAF president, that a running track would be retained post-Games, and no obvious football option on the table, work on an athletics venue carried on.
By the time Johnson then made his decision, it was too late, with the options always likely to be limited. With potential tenant Spurs wanting to remove the running track, rival bidder West Ham was seen as the only politically acceptable option, and left them in a phenomenally strong bargaining position. Naturally, they took full advantage, while their new home had to be converted for dual-use, amid concerns over its suitability for football.
Walk through the vast landscaped acres of the Olympic Park, as I did this week, and it is hard not to be impressed by what has been achieved since the Games. Visit the 12,000 sq ft West Ham megastore, take a look up at the enormous new roof, and the stadium's hospitality facilities, complete with various tributes to the club's heritage, and it is easy to see why - despite such controversy - the club saw such potential in the move away from Upton Park, and is proud of its new home.
Earlier this year, when announcing the club's financial results, vice chairman Karren Brady hailed "a platform to transform the future of our great club". The objective of ensuring fans enjoyed "a seamless transition into their new home", however, is proving a challenging task.
Last year, the LLDC's chief executive David Goldstone, told me that the stadium would help transform an area of London, desperately in need of development, and help generate billions for the local economy.
He went on to say that it would "really pay its own way without requiring on-going subsidy from the taxpayer" and that he was "confident it will cover its own costs… I'm confident we've got good value for money out of the deals we've done."
Sadly, such a forecast now appears more uncertain than ever.