Joe Allen: Swansea City can get out of trouble, says former midfielder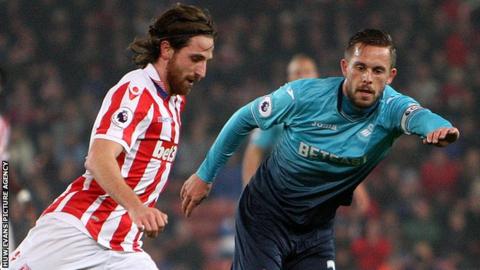 Stoke City midfielder Joe Allen believes former club Swansea City can haul themselves out of Premier League trouble.
Swansea are one place off the bottom of the table after a 3-1 defeat at Stoke.
Manager Bob Bradley says he faces a "huge" job to save Swansea from relegation but Wales' Allen is confident they can avoid relegation.
"Like ourselves I'm sure it's only a matter of time before Swansea start climbing up the table," Allen said
"Like us the fixture list can be challenging at times and hopefully over the next few weeks they can get the ball rolling as well.
"Playing for the opposition you can see that they've got an array of talent."
Swansea have not won since victory on the opening day of the season at Burnley in August with American Bradley still waiting for his first three points.
Stoke's win over Swansea was their third successive victory and Mark Hughes' side have moved up to 12th in the table.
Allen was the creator for the two goals scored by another former Swansea City player, Wilfried Bony, who is on loan at Stoke from Manchester City.
"There was mixed emotions for the pair of us but Wilf needed the goals," Allen added.
"That's him away now. I'm sure he'll go on and get heaps and heaps of goals as the season goes on."