Karamoko Dembele: Celtic forward, 13, features for Scotland Under-16s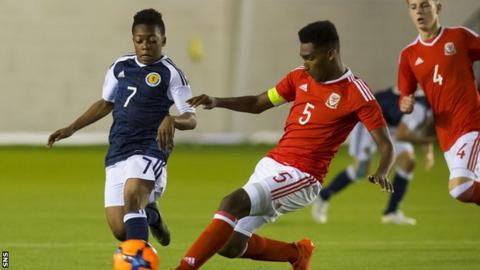 Scotland Under-16s head coach Brian McLaughlin says Karamoko Dembele made his international debut on merit.
The 13-year-old Celtic forward came off the bench as Scotland drew 2-2 with Wales in the Victory Shield.
During his 26 minutes on the field, he showed glimpses of the skill and assurance that led to him playing for Celtic's development team last month.
"He was excellent," McLaughlin said. "He looked confident and it's a very good group to come into."
Dembele trained with England's international youth set-up last week. He is also eligible to play for Ivory Coast and will not be tied to a national team until he makes a competitive appearance for a senior side.
"We just felt this was the right time to introduce that young boy on to the pitch," McLaughlin said.
"We've got a strong group of players, they're really good together and for him to be training with these boys will be a learning [experience] for him and he'll become a better player for it.
"All these young boys want to become top footballers. It's important that we keep trying to create an environment for these young boys to become better, because they've got the attitude of wanting to become top players, not just professional players."
Having defeated Northern Ireland 2-0 in the opening game, Scotland know a victory over Republic of Ireland in the final match on Friday will secure the Victory Shield, although the Republic have been impressive in winning their two matches so far.
Jamie Semple scored twice against Wales, who restored parity through Isak Davies and Keenan Patten.
"It's really pleasing that this has been a fantastic 80 minutes for these young boys to learn," added McLaughlin.
"We were quite nervous at the start of the game and that was down to Wales. They were excellent and pressed us high.
"Credit to our boys - we finally got some flow and started playing. At half-time we're 2-0 up and looking comfortable.
"Things changed, and that was just down to 15-year-olds forgetting what we'd asked them to do and having that belief to carry it through for 80 minutes.
"It was a real learning curve, from a high to a low."