Gylfi Sigurdsson: Swansea City can 'kick-start' season with a win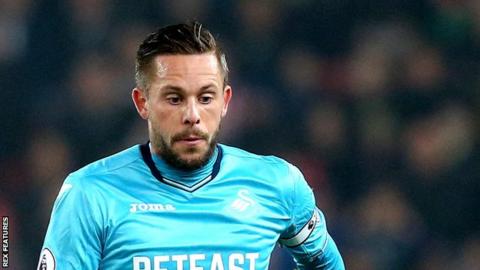 Swansea City can "kick-start" their poor start to the season with just one win, according to Gylfi Sigurdsson.
The Swans have taken just five points from their opening ten Premier League games and saw former striker Wilfried Bony score twice against them as they lost 3-1 to Stoke City on Monday.
Winless since their opening day win at Burnley, Bob Bradley's side are second from bottom of the table.
"We have to keep going, there's plenty left to play for," Sigurdsson said.
"We need just one win to kick-start our season and get our confidence.
"Once you get that one win, things look easier and you get that confidence back into the team and you can build on that."
Despite a tough spell of fixtures early in the season, Sigurdsson is optimistic about how the team has performed despite their lowly position in the league.
"We had a run where we played Manchester City, Arsenal, Liverpool, Leicester City and Chelsea so those games were very tough," the 27-year-old said.
"It wasn't like we were getting battered in all of those games. We were in the game and losing by one goal."
Swansea face Manchester United at home on Sunday who are without a win in the league in their last four games.
"Everyone is fighting for something and I think you've seen in the league this year and last year, anyone can beat anyone," Sigurdsson continued.
"It's a home game for us, so it's very important that we perform well and we get something out of the game."