Paul Tisdale: Home win 'is coming' says Exeter boss after fifth away victory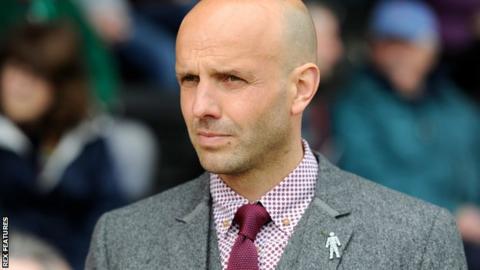 Exeter City manager Paul Tisdale is confident his side will replicate their away form at St James Park very soon.
Exeter impressed in a 3-0 win at Morecambe, their fifth away victory of the season, but have not won at home in League Two since April.
"There are a lot of people that want that kind of performance at home, me included, and the players are ready for it, it's coming," Tisdale said.
"It's not a surprise, we've got some nice form away from home."
The result saw Exeter rise to 19th place in League Two, but the Grecians were hit by a serious injury to goalkeeper Christy Pym.
The 21-year-old, who has started the last five matches after impressing in training, had to go off with a gashed knee.
"He's come out with a 50-50 at the feet of Kevin Ellison and got there first and Kevin Ellison got there second," Tisdale told BBC Radio Devon.
"He's taken a stud above the knee and got a very nasty gash with some really considerable stitches.
"There was not a cat in hell's chance of him continuing."