Real Madrid defender Pepe out for several weeks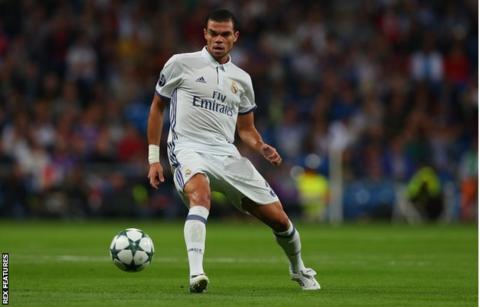 Real Madrid's Pepe is likely to be out for several weeks with a hamstring injury, and could miss La Liga games against Atletico Madrid and Barcelona.
The 33-year-old Portugal defender was injured during the first half of Saturday's 4-1 win over Alaves.
The European champions also have captain Sergio Ramos, another centre-back, out injured.
Real confirmed Pepe "has been diagnosed with a grade two muscle injury in the femoral biceps of his left leg".
Spanish newspaper reports claim he is likely to be out for four to six weeks.
Real face city rivals Atletico Madrid on 19 November and meet Barcelona on the first weekend of December.