Bury: David Flitcroft disappointed by chants for him to be sacked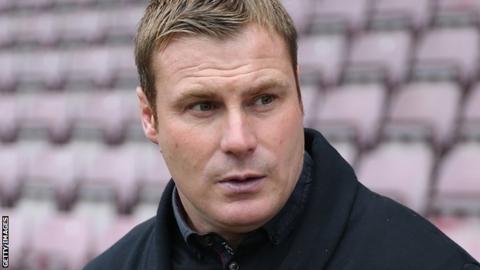 Bury manager David Flitcroft is convinced some of their supporters will never be happy with him in charge.
Chants of 'Flitcroft out' and 'you're getting sacked in the morning' were sung by some Shakers fans during their 3-2 loss at Northampton on Saturday.
Bury have dropped from second to 15th in League One, having lost all seven of their games in October.
"I do believe there has been negativity from some fans since I walked into the building," said Flitcroft.
The former Rochdale assistant and Barnsley boss told BBC Radio Manchester: "That is something that I can't do anything about, that was three years ago. When we win, those fans don't really go on the message boards or go vocal.
"There are some that have never wanted me at the football club, but while you're losing six or seven games, you expect that chanting.
"It is disappointing to be judged over three-and-a-half weeks work when you have given everything over a three-year period."