Bob Bradley: New Swansea boss faces the 'cold night in Stoke' test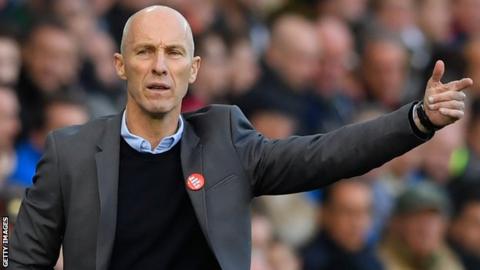 It is less than a month since Bob Bradley was appointed Swansea City manager, but the American already seems well versed in the lexicon of British football clichés.
It has long been suggested by some that the truest test of a Premier League newcomer's mettle is answer to the question: Can they do it on a cold night in Stoke?
After promotion in 2008, Stoke's early years in the top flight were defined by a rugged, uncompromising approach under then-manager Tony Pulis.
And with strong Staffordshire winds gusting through the stadium's exposed corners to compound the chill of a British winter, a trip to the Potteries was meant to strike fear into weak-hearted travellers.
Stoke's playing style has evolved into something a little more refined under current boss Mark Hughes, but Bradley expects a rigorous examination when he takes his Swansea side to the Bet365 Stadium for Monday night's match.
"Yes, I am familiar with that expression. It's Halloween too," he says with a grin.
"First to the famous line, I think you still go there expecting that it might be cold, might be windy - I don't think those things have changed.
"But at the same time, Mark Hughes' teams still have a definite way of going about it so, football-wise, they have some talented players and a sense, with their system, how guys move, how they find chances.
"So for us, you have to go understanding it might be cold and windy but still be ready for the football challenges this Stoke team puts at you."
The "football challenge" for Swansea promises to be a stern one against an in-form Stoke side, who have recovered from a poor start to the season by winning their last two Premier League games to climb out of the relegation zone.
The Swans, by contrast, have stagnated and are without a league victory since beating Burnley on the opening day of the campaign.
There have been signs of improvement in Bradley's first two games in charge, a 3-2 defeat at Arsenal and a goalless draw at home against Watford.
Confidence, however, remains brittle for a team second from bottom in the table and four points behind Stoke in 17th.
Could Swansea take some inspiration from Stoke, who have married the rustic strength of the Pulis years with Hughes' more enterprising approach in attack to finish ninth in the Premier League for the last three seasons?
"Of course. We want to be a team that's hard to play against and prepared. We talk about closing down, about the structure of our team," Bradley says.
"You want to always bring those qualities, but then you also want to make sure there are other parts of your team - the way the ball moves, attacking ideas, creating advantages, movements in the box.
"To become a complete team, you try to impress upon everybody that this is the way it works - everything from your mentality to everyone being ready to step on the field, to confidence that when you have the ball you can play, reactions when you lose the ball. All of it."
Allen and Bony back to haunt Swansea?
Ensuring this misfiring Swansea team click into gear will be one half of the challenge for Bradley; the other will be to shackle some familiar threats Stoke will pose.
Former Swans midfielder Joe Allen is in the goalscoring form of his life, finding the net five times in his last five games for Stoke and Wales.
It is not even November and the 26-year-old is already enjoying the most prolific season of his career, and Bradley recognises the danger this "smart player" could cause in his new advanced role.
The American is also wary of another former Swan in the Stoke ranks, striker Wilfried Bony.
The Ivorian has yet to score for Stoke since joining on loan from Manchester City but, having struck against Swansea as a City player, the 27-year-old demonstrated his ability to haunt his former employers.
"As a manager, you always think about players coming back to their former club with a point to prove," Bradley says.
"It doesn't change the approach but it's our job to be up to the challenge when a player has something to prove. We have to make sure it doesn't become a factor come game time."