Alex Neil: Norwich boss apologises for 'worst loss' at Brighton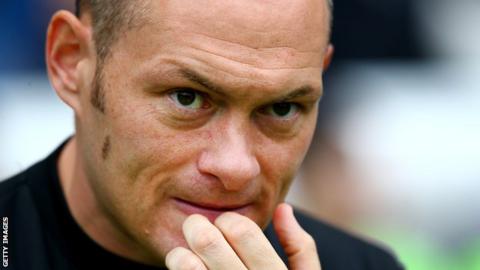 Norwich City boss Alex Neil apologised to fans after their 5-0 thrashing at Brighton - the heaviest loss during his time at the Championship club.
The Canaries, relegated from the Premier League last term, were top on 15 October but have slipped to fourth after two defeats in three games.
"It was my worst defeat as a manager, a humiliating defeat," said the 35-year-old former Hamilton boss.
"The players need to try and play better it's as simple as that."
Against one of the teams expected to be their rivals for promotion, Norwich produced just two shots on target in a lacklustre display.
Neil took over at Carrow Road in January 2015 and helped the club to a top flight return in his first season.
Asked how he will respond to the loss, the Scot added: "I will be changing it now. Certain players have let themselves down and have not performed at anywhere near what they're capable of. I apologise to the fans.
"Now it is about getting into work and working as hard as you can. After the game, the players said more to each other than normal which is not a bad thing."