Motherwell become fan-owned club for £1 paid to Les Hutchison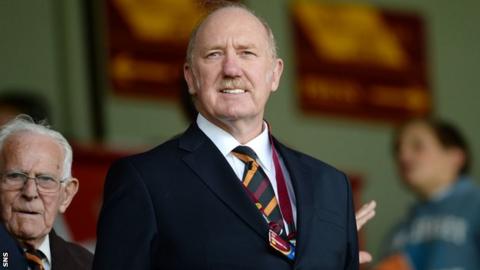 Motherwell have transferred into fan ownership after the Well Society and Les Hutchison concluded a takeover agreement for the Premiership club.
The Well Society supporters group has assumed a 76% shareholding from the Barbados-based Scot for £1 following talks that lasted most of this year.
Hutchison had purchased the club for the same amount in January 2015 from previous owner John Boyle.
"Motherwell FC has now transferred into fan ownership," said a statement.
The Fir Park club become the first club in Scotland's top flight to become fully owned by their fans.
Premiership rivals Hearts were bought over by businesswoman Anne Budge in 2014 with a view to an eventual handover to the Foundation of Hearts.
In July, St Mirren were taken over by a joint bid involving former director Gordon Scott and the St Mirren Independent Supporters Association.
Championship rivals Dunfermline Athletic and League Two clubs Clyde and Stirling Albion were already fan owned.
Hutchison had plugged Motherwell's debts with interest-free loans.
And a Well Society statement read: "An important element in the agreement is that loan repayments for the first three years will be made from a percentage of player transfer income only.
"This means that the club will not be burdened with loan repayments from regular income during this period but will still benefit from player transfers by receiving a percentage of transfer fee income.
"After the initial three-year period, outstanding loans will be repaid on a fixed payment schedule.
"All of these factors protect the financial security of the club.
"Our ongoing responsibility as fans, through the Well Society, will be to generate additional income for the running of the football club through monthly direct debit payments of £10 or more.
"The income generated by our fans via the Well Society will be crucial to our financial stability over the coming years."
Motherwell chairman Jim McMahon, himself a founder member of the society, admitted that it was up to the club to silence those who doubt that fan ownership can work.
"The last two years have been dramatic and challenging for the club," he said.
"Having triumphed in the play-offs, we all hoped that the next period would be more settled and allow us to move gradually to fan ownership over the five-year timescale envisaged.
"Instead, the opportunity arose almost immediately and it is a credit to the Well Society that they have been able to deal with the abrupt change."
Well Society joint chairman Douglas Dickie urged supporters to get behind "a new phase in our history".
"Fan ownership has responsibilities and we all need to realise that continued and growing financial support from all fans will be required," he added.