Derby County appoint Chris Evans as technical director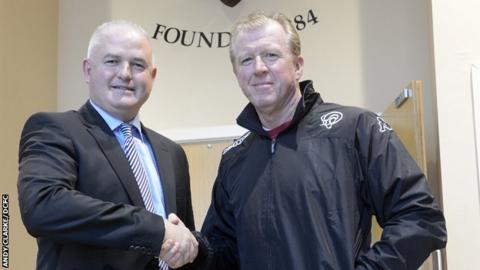 Chris Evans has rejoined Derby County in the role of technical director to link up with Steve McClaren again.
It is 13 months to the day since he resigned from his position as head of football operations after joining the club in November 2013.
"He worked tirelessly to set up our scouting and recruitment department," said head coach McClaren.
"I felt it was important that we brought Chris back to continue the job that we started."
Evans, 54, who played for Arsenal, Stoke City, York City and Darlington, first joined the Rams to oversee their scouting and recruitment teams.
"I am excited to be returning to the club again," he said. "It was an honour and privilege to have represented Derby County previously and the feeling is exactly the same this time around.
"Steve McClaren is a very talented coach and manager who I hold in the highest regard. (Owner) Mel Morris is a most impressive and inspirational man and I want to be a part of his vision for the club.
"I have so much respect for (chief executive) Sam Rush and all his achievements. It is evidently clear for all to see that he is, like Mel and Steve, Derby County through and through.
"I look forward to supporting them in our quest to bring sustained success to the club."