Souleymane Coulibaly: Kilmarnock keen to 'take striker away' to avoid January bids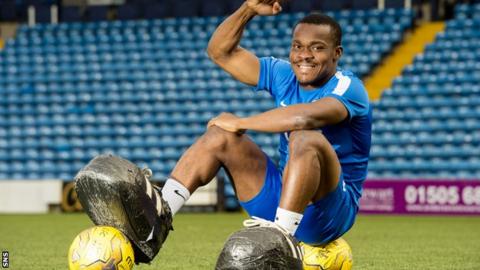 Kilmarnock manager Lee Clark admits he may have a fight on his hands come the January transfer window to hold on to top scorer Souleymane Coulibaly.
The 22-year-old Ivory Coast striker has scored nine goals - several of them spectacular - in 15 games this season.
Clark says he may go to extreme efforts to keep Coulibaly at Rugby Park.
"We're hoping to take him away somewhere when the January window is open and just make sure he's not aware of it," the Killie boss quipped.
"Then, as soon as January ends, we'll let him back out again - that might be the answer!"
Clark admits it would be a worry for his side, who sit in seventh place ahead of Saturday's Premiership match against Rangers at Ibrox, if they were to lose Coulibaly in the winter window.
"I have to say yes, it would be very worrying because, if something was to happen and you were to lose your top goal-scorer, with our financial constraints it would be difficult to replace a goal-scorer for another one."
Coulibaly has hit the headlines with a number of spectacular goals this season; namely against Celtic then in midweek in the 2-0 win over Hearts.
"Sometimes I've got to bite my lip because some of the things he tries because I know there'll be one piece of magic from him," said Clark.
"The other night it was exactly the same.
"He's got nine (goals), he's targeted 15. I think he has to re-address that one and go for more.
"He's playing a foreign position, he hasn't played any football in a wide position, but he's still been a huge threat for us in the goalscoring stakes.
"He's working hard to get that side of his game right and we understand there'll be times when he'll switch off.
"He's never complained that he's been there and thankfully he keeps getting his rewards by scoring goals."