Derek Adams: Loan changes have benefitted EFL, says Plymouth Argyle boss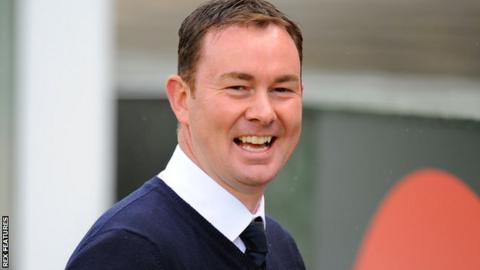 Plymouth Argyle manager Derek Adams believes the end of signing players on loan outside of the transfer window has benefitted the English Football League.
This season is the first that clubs have been barred from making emergency loan signings, instead having a set squad between transfer windows.
"I do think it's beneficial and more professional for the league.
"I think it's beneficial for the football clubs, as well as it gives a bit of stability," Adams told the BBC.
He brought in 16 new players, including two loanees, over the summer, having worked under a similar system in Scotland when he was manager of Ross County.
Fifa outlawed the emergency loan system at the end of last season, which had allowed EFL clubs to bring in players for between 28 and 93 days outside the transfer window.
However, non-league clubs can still bring in players on loan, and all clubs are permitted to sign players who are free agents.
"People were allowed to take players for 28 days, they were allowed to go and pull in favours form other managers, it might have been a free loan, it might have been a loan that wasn't costing them a lot of money," added Adams.
"It's difficult for some clubs as some clubs down the bottom are struggling financially,
"We're not one of the wealthy clubs in the league, we just had to use our budget accordingly to get the best quality under the budget we have."