Prestatyn Town: Chairman Tipping confident of paying winding-up order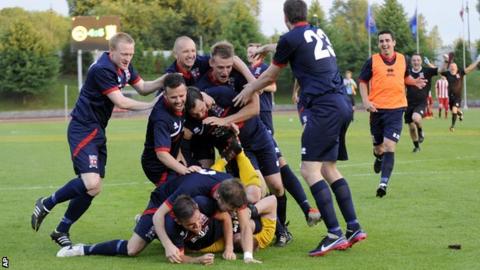 Prestatyn Town chairman Chris Tipping is "confident" the club can pay the £53,132 needed to stave off a winding-up order from HM Revenue and Customs.
The former Welsh Premier League club, now a division below in the Cymru Alliance, have until 24 November to pay the money owed.
Although they "overspent" during their 2013-14 Europa League campaign, Tipping believes Prestatyn can recover.
"We will be in the strongest position I think the club has ever been," he said.
"I'm very confident that we will not just have paid it by the 24th but hopefully paid it before that.
"This is the final straw really. It's make or break in more ways than one."
Prestatyn were originally ordered to pay £75,000 by HM Revenue and Customs for a period stretching back to 2011, but the club was able to get that sum reduced as it was not recognised as a public limited company for the first two years quoted.
The Seasiders were relegated in 2015, ending a seven-year stint in the Welsh Premier League which included a run to the second qualifying round of the Europa League in 2013.
Tipping believes Prestatyn "overspent" during their European campaign before his arrival at the club.
Financial records show the club operated with losses of £120,000 during the 2013-14 season, while its net liabilities exceeded its net assets by £73,176 in the year ending December 2015.
"We invested heavily in the playing squad. When we qualified for Europe, the board at the time felt we needed a strong squad," Tipping told BBC Wales Sport.
"So basically [they] overspent on the playing squad without realising how quickly it would burn the money we won [from qualifying for Europe].
"So when I took over two and a half years ago, the wage bill was phenomenal. We were losing six figures a year. The first thing I did was cut the budget, cut the wage bill."
Prestatyn's wage bill is now roughly 25% of what it was when Tipping became chairman in 2014.
A businessman with a background in reviving struggling businesses, Tipping says the club has received several anonymous donations.
"We've got a couple of investors who've pledged significant amounts," he added.
"We've also introduced a member's scheme where the supporters would buy into the scheme and elect three people join the board.
"The plan we've had has worked. We've gone from a club that realistically should have gone bust three years ago - and we should have wound the club up possibly.
"But we all decided we'd get our heads down and work on this three year plan. Promotion will be the icing on the cake and we'll back in the Prem [Welsh Premier League], where we belong."