Braintree Town - the club who have had eight goalkeepers this season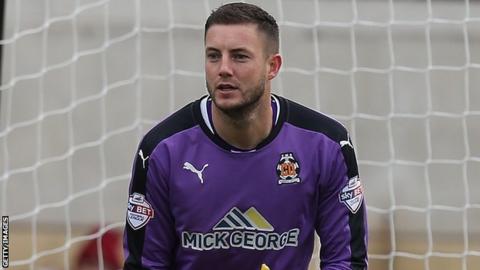 If you were predicting the starting line-up of the club you support, the position you would most likely be able to predict would be the goalkeeper - unless you are a Braintree Town fan.
The National League club have had eight goalkeepers since the start of the season, with six of them - and an outfield player - featuring between the posts.
It means predicting who will don the gloves at the Essex part-timers is a bit of a lottery.
"I've never seen anything like it in my time in the game, but we're getting to speak to a lot of goalkeepers," Braintree chairman Lee Harding told BBC Sport.
Braintree's goalkeeping issues are a microcosm of the plight the fifth-tier side face.
They are bottom of the National League, winning for the first time in a month on Tuesday as the eighth goalkeeper to be at the club - Dan Lincoln - made his debut in the 3-2 win at Woking.
The club started the season with first-choice Jamie Butler and back-up Sam Cowler, but Cowler left to move to China to study without playing a game and was replaced by Josh Strizovic - who has only been an unused substitute.
Butler then parted company with the club in August, but not before he was sent off against Macclesfield, allowing Ross Fitzsimmons - who joined as cover for his suspension - to make his only appearance of the season in the following game.
Butler was replaced by Cambridge United's Sam Beasant - son of former England, Chelsea and Wimbledon FA Cup-winning goalkeeper Dave (we're up to five now).
Beasant played the next four matches before injuring his hand, so the club brought in Bristol Rovers' Will Puddy on loan (goalkeeper number six).
Puddy took over for the next four games before he too got injured earlier this month - cue cover for the cover and Joe Taylor became goalkeeper number seven as he joined from National League South neighbours Dartford.
Braintree Town's goalkeepers this season
Jamie Butler
Sam Cowler
Josh Strizovic
Ross Fitzsimmons
Sam Beasant
Will Puddy
Joe Taylor
Dan Lincoln
But Taylor's debut did not go to plan as Braintree lost 6-1 at Dover Athletic on Saturday, so Reading youngster Lincoln joined on Tuesday afternoon, and made his bow a few hours later.
Braintree have actually had another keeper too - remember Butler's sending off against Macclesfield? Well there was no goalkeeper on the bench, so midfielder Sam Corne went between the posts.
"It's compounded our slow start to the season," said Harding, who is already on his second manager after Hakan Hayrettin replaced Jamie Day at the end of last month.
"I'm a great believer that you have a spine of a side, and that starts with the goalkeeper and moves up through the team.
"But with the fluid nature of those wearing the number one, 13, 21, 22, 23, 25 shirt, there's a lack of certainty.
"But these things happen - in previous years we've had one guy be ever-present for the duration.
"We've had some nasty injuries and circumstances where players haven't fitted in or done as well as they'd have liked."