Joey Barton: Rangers to meet midfielder over future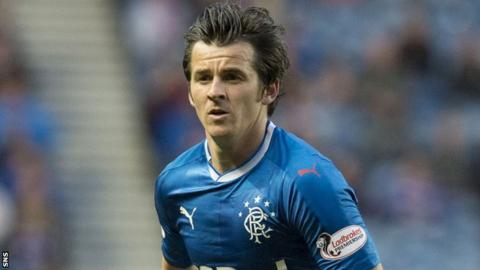 Rangers and Joey Barton are to hold talks on Thursday in a bid to sort out the midfielder's future at Ibrox.
The Englishman has been suspended since a training-ground bust-up in September.
It is extremely unlikely that Barton will play for the Scottish Premiership club again.
The 34-year-old, who joined Rangers in the summer after leaving Burnley, is also facing Scottish FA charges relating to a breach of their betting rules.
Barton's club suspension followed a row with manager Mark Warburton and team-mate Andy Halliday after he criticised the team after their 5-1 defeat by Celtic on 10 September.
The Englishman had spent a season with Burnley after leaving Queens Park Rangers but rejected a a £35,000-per-week offer in order to move to Rangers on a two-year contract.
Burnley manager Sean Dyche told BBC Radio 5 live that he had been delighted with the midfielder's behaviour as he helped his side win the Championship in England and promotion.
"I was asked obviously quite in depth about what's gone on recently at Rangers and I said I could only judge by what I found," he said.
"That was absolutely top class. The way he went about it, the way he was with the group, with the staff - very demanding still and, if he asks a question, he needs an answer.
"But, as long as you are happy to give him an answer and speak with him, he was first class.
"And he was first class on the pitch. People forget that. His conduct on the pitch - exemplary last season, absolutely."
Barton had earned a reputation for a quick temper before joining Burnley.
"I'm telling you now - he was getting smashed all over the place by players attempting to wind him up," recalled Dyche.
"He stayed absolutely steadfast to the cause, for the club, and that helped players around him I think and brought other players to life at times.
"Sometimes it just fits. He fitted with us, we fitted with him."
It was suggested that Burnley, who sit 14th in the Premier League this season, might be keen to take Barton back should he leave Rangers.
"I have been asked that a million times and I'm not going to answer you," replied Dyche. "That's for another day."