Pep Guardiola: Man City boss awaits Yaya Toure agent's apology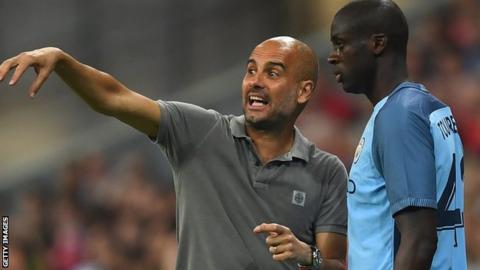 Manchester City manager Pep Guardiola wants to recall midfielder Yaya Toure but is still waiting for an apology from the player's agent.
The Ivorian, 33, has played just once this season, in the Champions League play-off round. He was then left out of the competition's group stage squad.
Dimitri Seluk claimed Toure had been "humiliated" by the decision.
Asked if Toure could play in the EFL Cup tie at Manchester United, Guardiola said: "You know the situation."
The Spaniard said in September Seluk "must apologise" if Toure is to play in the first team again, but the agent told BBC Sport at the time: "What do I need to apologise for? He should speak to Yaya, who is doing his job."
But with no apology forthcoming, a stand-off remains between the manager and player.
Guardiola, speaking ahead of Wednesday's Manchester derby at Old Trafford, added: "I would like to take Yaya [with the team], believe me, I would like, but you know the situation."
City won their first 10 games under the ex-Barcelona boss but have failed to win in their last five.