Hamilton 1-0 Aberdeen: Derek McInnes 'aggrieved' at penalty decision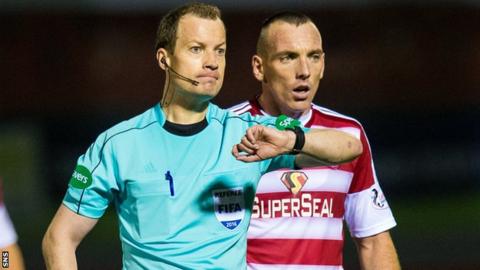 Derek McInnes says he was "aggrieved" by the penalty decision that led to Aberdeen's defeat at Hamilton.
The Dons manager had a "respectful" discussion with referee Willie Collum after losing 1-0 at the SuperSeal Stadium to Alex D'Acol's penalty.
"We've got a healthy relationship," McInnes told BBC Scotland. "I spoke to Willie, he's happy to look at it again.
"It's not a penalty. It's the softest you'll see. I'm really disappointed it's been given."
Collum awarded the spot-kick after D'Acol fell backwards inside the penalty area while Aberdeen defender Anthony O'Connor was standing behind him.
Aberdeen claimed for two penalties themselves after the break - when Kenny McLean was challenged inside the area, and when Shay Logan went down as he ran into the box - but neither convinced Collum enough to award a spot-kick.
"The referee's got a good view of it," McInnes said, who saw his side's six-game winning run come to an end.
"D'Acol's leaned into Anthony, Anthony's put his hands up to try to show there's no contact and he's thrown himself, he's backed in, maybe expecting contact, but there's nothing there.
"It gives the home team a lift. From 25 minutes in, we're bemoaning the fact we maybe haven't got a penalty kick ourselves or made the most of opportunities.
"For one of the penalty claims we had, the McLean one, [Collum] doesn't have a good view, so I can understand why he hasn't seen what we've seen - I think that's more of a penalty than the one he gave - but it was a respectful discussion. He's doing his job as we're trying to do ours.
"[Hamilton] don't give you a minute, once or twice we got caught. But in general we played at the right times, we got into some good areas and we finished the first-half quite strongly.
"We had opportunities to score, but decisions have a big part to play. I do believe that while Hamilton did well and worked extremely hard for the result, we deserved something from the game. We need to lick our wounds and move on to Celtic on Saturday."
Hamilton manager Martin Canning had a different view of the penalty kick that was awarded to his side, and the claims Aberdeen made after the break.
He was also pleased that a run of five games without a win, and a series of points dropped after his side had taken the lead in games, came to an end with the 1-0 victory.
"I thought it was [a penalty], I thought he pulled him to the ground," Canning said. "I know in the second half that Derek and his staff were shouting for quite a few, and maybe it's bias but I didn't see much in the ones they were shouting for.
"I was quite relaxed second-half. I know it doesn't look it because I'm shouting and balling like a maniac at the side, but the games that we have conceded in previous weeks, we haven't done a lot wrong and a wee break's maybe gone against us
"I thought we limited a very good Aberdeen team to not a lot of clear-cut opportunities, and we created opportunities on the counter-attack. I thought we played very well in the second half.
"We performed well again, we deserved to win the game over the piece. For us, it's justification that if you continue to work hard and perform well, you will get three points."