Graeme Souness: No better manager for Scotland than Gordon Strachan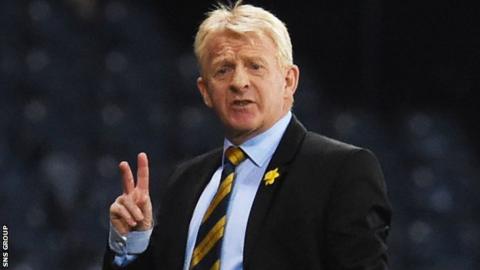 Graeme Souness insists that Gordon Strachan is the right manager to lead Scotland in the World Cup qualifiers.
Strachan considered his future after a damaging 3-0 loss to Slovakia this month but decided to stay on.
Former captain Souness believes the Scots can earn a positive result at Wembley in November, even though Group F leaders England are favourites.
"I don't see a better man," Souness said of Strachan. "He's working with limited resources."
Scotland have gathered a disappointing four points from their opening three matches and sit three points behind England, with Lithuania and Slovenia also ahead of Strachan's men.
Scotland can beat 'ordinary' England
Looking ahead to the first competitive match with England since the Euro 2000 play-off, Souness said: "Do we have a chance at Wembley? Yeah, we do.
"This is, by far, not the best English team I've seen. They have an ordinary group at this time, and we're not in great shape either.
"They start as favourites, but it's not impossible for us to go there and get a result. Is it likely? I'm not sure, I don't think so, but it's not impossible.
"That would be great for the country, to go there and turn them over. If you live in England, it would be even better."
No monopoly on passion
The former Liverpool midfielder, who earned 54 international caps and played in three World Cup finals, warns that England will be just as emotionally charged when the sides meet on 11 November, but that a positive result is still possible.
"When I played I felt we had a monopoly on passion [but] the English are the same," said Souness - who will hold a question and answer session with another former Scotland international Joe Jordan at Glasgow's Royal Concert Hall next month.
"They want to beat us every bit as much as we want to beat them. They don't like us when it comes to football like we don't like them when it comes to football. They'll want to turn us over, make no mistake about that."
Souness is adamant that Strachan is making the most of the players at his disposal, and points out that the squad lacks a world class player.
"Gordon is a football man, he's not a fool, he understands what he's got to work with and he's made the most of it," he added.
"The hardest thing to do in football is score goals, and we're not great at that. At the back we're not so hot either, so it's not a great combination to have. He's got us organised and difficult to play against.
"Winning games at the highest level is not easy, you need some special moments and we've not had enough of them, we haven't got enough special players - a bit like Wales with Gareth Bale who time and again gets them out of a hole. Maybe one day soon we will."