Roger Schmidt: Bayer Leverkusen boss banned for 'nutcase' jibe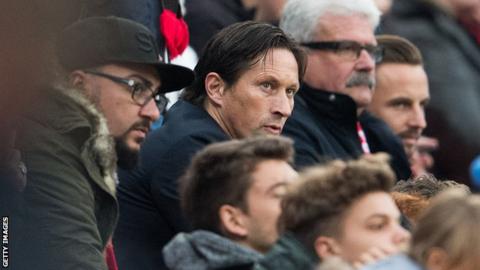 Bayer Leverkusen head coach Roger Schmidt has been banned and fined for calling an opposing manager "a nutcase" during a Bundesliga game.
Schmidt was sent off by the referee for insulting Hoffenheim's Julian Nagelsmann in Saturday's 3-0 home loss.
"That was nothing, what sort of a nutcase are you? Just shut your mouth," Schmidt shouted after going 2-0 down.
The 49-year-old has been banned for two games and handed a 15,000 euros (£13,373) fine.
The German was sanctioned after triggering a suspended sentence from February this year.
He had been banned for three games, with a further two in the event of a repeat offence before June 2017, for refusing a referee's order to leave the sidelines during a 1-0 defeat to Borussia Dortmund.
Schmidt will be unable to have any contact with the team for half an hour before, during and after Tuesday's German Cup second-round match against Lotte and Saturday's league match against Wolfsburg.
Leverkusen's director of sport Rudi Voller has sought a meeting with the head of the disciplinary committee.