Zamalek chairman: Soliman 'to stay' as coach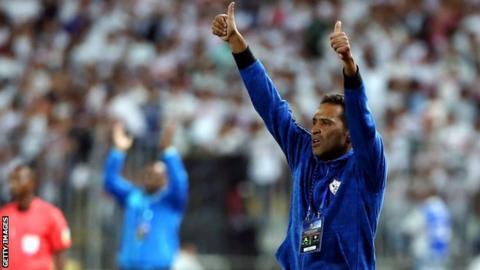 Zamalek coach Moamen Soliman will stay in his role despite losing the African Champions League final, says chairman Mortada Mansour.
The Egyptian giants were beaten 3-1 on aggregate by South Africa's Mamelodi Sundowns, who won the title for the first time on Sunday.
"We have good technical staff and I'm not going to sack them," said Mansour, who has used six coaches this year.
"Moamen will stay till the end of this season with Zamalek."
Prior to the first leg of this month's Champions League final, the coach had pledged to resign if his side lost - but Mansour had different ideas.
"We faced sorcery and bad luck against Sundowns. There were many chances for us in both games but the ball did not want to enter the goal," the chairman explained.
"Anyway, I want to thank my players and the fans who attended the game to support the players."
Soliman took charge of Zamalek, who have been crowned African champions five times - a record only bettered by the eight of city rivals Al Ahly, in August.
He guided his team to a 1-0 victory at home to Sundowns on Sunday, but a combination of misfortune and misfiring restricted the hosts to just one goal.
"The best team won the title," Soliman told the official Confederation of African Football website. "We had more chances than Sundowns and dominated.
"Football does not follow a specific logic and always rewards the team that with continuity. I was appointed within a short time and I'm happy with what we have achieved.
"During the three months in charge, I have had only 20 training sessions with the team and only 14 players available for the latter stages. That is an achievement and the supporters should be proud."
Soliman also revealed that he had not expected to receive the support of Mansour.
"I was surprised when the president came to the dressing room and commended the team for their efforts while also conveying confidence in the technical team," the former Zamalek player added.