Challenge Cup: Crusaders-Livingston game to be replayed at Seaview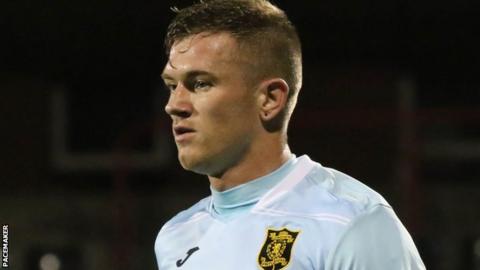 Crusaders will host Livingston in a Challenge Cup replay after the Scottish side admitted fielding an ineligible player in the tie earlier this month.
Livingston won the 7 October game 2-1, but Alan Lithgow was suspended and the club have also been fined £4,000.
"In the interests of sporting integrity and fairness to both sides, the game will be replayed," said SPFL chief executive Neil Doncaster on Monday.
The replay will take place at Seaview next Tuesday, 1 November.
A sub-committee of the SPFL Board charged Livingston for playing Lithgow whilst he was ineligible, as he was under a Scottish FA suspension at the time.
The defender started the game in Belfast and played the full 90 minutes in the fourth-round tie.
Livingston pleaded guilty to a breach of the SPFL regulations.
The West Lothian club were ordered to replay the game against Crusaders and fined £4,000.
Livingston were drawn at home against Welsh side The New Saints in the quarter-finals on 13 November following their narrow win over the Irish League champions.