Glasgow City: Each women's SPL title more special - Leanne Ross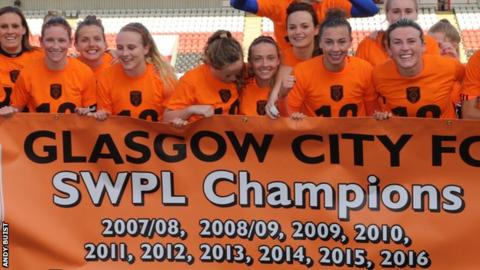 Glasgow City captain Leanne Ross says she will "cherish forever" the "amazing feeling" of winning 10 successive Scottish Women's Premier League titles.
The 35-year-old joined the club in 2007 and is the only player to have been involved in all 10 title campaigns.
But the Scotland midfielder says an improvement in standards means their feats should not be under-estimated.
"It has certainly become more difficult year on year when other teams have been improving," she told BBC Scotland.
"So each year has been more special than the year before.
"Everyone says the first one is the easiest and retaining it is the problem because everyone wants to beat the best team.
"The likes of Celtic, Hibs, Rangers and Spartans have all pushed us very close over the years. They have obviously seen what we have been doing as a club and tried to improve.
"I think each club in the Premier League has done that year on year and it has certainly been tough to maintain the success we have had, because other clubs have improved as well."
Ross, who has won 124 caps for Scotland since her debut in 2007, points out City, who are part-time, have had to consistently rebuild their squad after losing some of their best players to professional contracts in other countries.
"It has been difficult for us over the years but the fact we have constantly been able to regroup at the start of each season to perform so well and be so successful is a huge achievement for the club," she said.
"It is an amazing personal achievement but I am just happy to be a part of it and part of such a good club.
"I have played with some fantastic players and been coached by some great coaches along the way. It has been a great time for me and something I will cherish forever."
Ross, who says she would "probably not" consider moving elsewhere now in the latter part of her career, works as a co-ordinator for the Active Schools programme in Clackmannanshire.
While she admits it is "frustrating" to have to fit her football career around a full-time job, she has no regrets at not being able to make a living from playing the game.
"I am hopeful that is something that will change in future with investment in the women's game," she added.
"It will be a bit late for me at this stage of my career, but I never got into the game to make a living out of it.
"If you ask the majority of female players, they don't do it for recognition, they do it because they love the game. Having it as a job would just be an added bonus within Scotland."
City, who suffered their first league defeat in six years last month but have still won 19 of their SWPL 20 games to date, could secure a domestic double when they face closest challengers Hibernian in the Scottish Cup final on 6 November.