Paul Tisdale: Exeter City fans vote to renegotiate manager's contract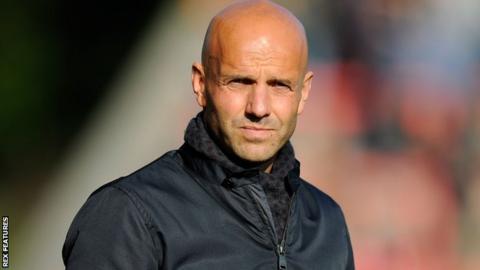 Exeter City supporters have voted to ask the club to renegotiate the contract of manager Paul Tisdale.
The League Two club are owned by their fans via the Exeter City Supporters' Trust, and passed a motion on Saturday.
The motion calls on the club's board to confirm if Tisdale has a notice period in his contract, and if so to serve notice on it and negotiate a new one.
In 2008 Tisdale, who is the longest serving manager in the EFL, agreed a two-year rolling deal with the club.
Outgoing trust chairman Laurence Overend says he does not believe fans want to sack their manager.
Motion agreed by Exeter City Supporters' Trust
Clarify whether the employment contract between Mr Paul Tisdale, football manager, and Exeter City Football Club incorporates a clause that sets out the details relating to any termination of said contract and, specifically, the term of notice required to be given in such circumstances.
Should such a clause be proven to exist, the Board of Exeter City Supporters' Trust shall immediately instruct the board of Exeter City Football Club that notice be served on Mr Paul Tisdale, in line with the appropriate and relevant terms of the contract, with the purpose of securing an alternative contract that will best protect the financial interests and security of the football club and be acceptable to both parties jointly and individually.
"I got no sense from the meeting at all that this was about getting rid of Paul Tisdale," he told BBC Sport.
"The thrust of the argument was the members wanting to be satisfied that there was a contract that protected the best interests of the club, the trust and the manager.
"There was not one person that spoke who wanted him out."
Exeter City chairman Julian Tagg told BBC Sport that he is unable to comment on the contractual arrangements of anyone employed by the club.
The Grecians suffered a financial scare in the summer of 2014 and had to go to the Professional Footballer's Association for a loan, causing the club to undergo a transfer embargo.
Since then City have been boosted by the record sale of Matt Grimes to Swansea, an FA Cup replay with Liverpool and the sale of Tom Nichols to Peterborough for a six-figure fee.
But Overend, speaking in a personal capacity, says he is unsure whether details of employees contracts should be made public.
"I'm not sure we could satisfy the members without giving out confidential information.
"The issues I raised regarded data protection. As far as I'm concerned it would be wrong to give away the terms of anyone's contract at the club, be they a cleaner or a member of the coaching staff."