Garth Crooks' team of the week: Valdes, Luiz, Kante, Shaqiri, Coutinho

By Garth Crooks
Football analyst
Last updated on .From the section Premier League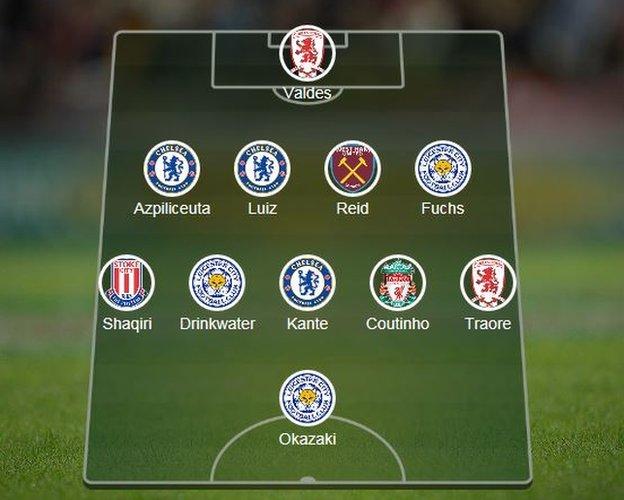 Chelsea moved up to fourth in the Premier League with a great display in their 4-0 win over Manchester United on Sunday.
Manchester City on the other hand suffered another blip, only managing a 1-1 draw at home to Southampton. Nevertheless, the point saw them move back to the top of the Premier League on goal difference.
Arsenal could have been sitting top but they were held 0-0 by Middlesbrough on Saturday.
Leicester were brilliant in their 3-1 win over Crystal Palace, and there were also wins for Liverpool, Burnley, Stoke and West Ham.
Do you agree with Garth's picks? Or would you go for a different team? Why not pick your very own Team of the Week from the shortlist selected by BBC Sport journalists and share it with your friends.
Pick your Team of the Week
Pick your XI from our list and share with your friends.
Goalkeeper - Victor Valdes (Middlesbrough)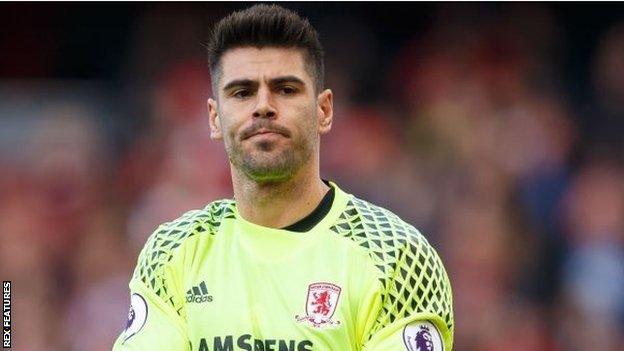 This was a match I described on BBC's Final Score as a "walk in the park" for Arsenal.
As it turned out, it was a game Middlesbrough should have won, and would have done if midfielder Gaston Ramirez had shown a little more ruthlessness in front of goal.
However, it was keeper Victor Valdes who showed real composure under pressure and did a superb job keeping a clean sheet when Arsenal breached Middlesbrough's defences.
At times it became a duel between former Barcelona team-mates Valdes and Alexis Sanchez, both of whom hoovered up a hatful of trophies between 2011 and 2014 at the Nou Camp. However, there were no trophies at stake on this occasion - and no winners either.
Left-back - Christian Fuchs (Leicester)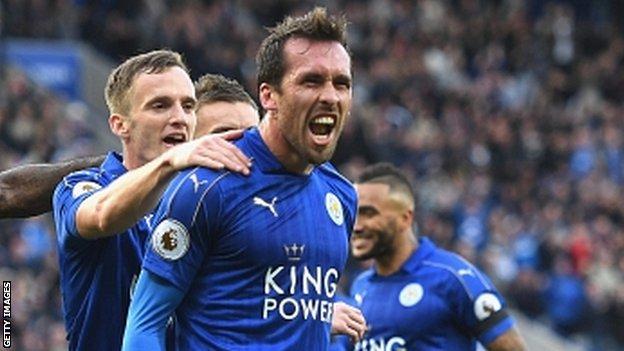 Let me start by stating that I like my defenders to defend well and wherever possible with a hint of spite. Christian Fuchs has plenty of the latter.
It can't be a pleasant afternoon playing against the Austria international because he seems to delight in making life as miserable as possible for whoever is up against him. So imagine my surprise when with Fuchs dispensed with his normal activities, fastened on to a loose ball on the edge of the opposition box and let fly with the most glorious left-footed volley you will see this season.
It also signalled the end of Crystal Palace's dismal afternoon. I wonder if Champions League experience is providing players like Fuchs with the confidence to attempt things they would have never dared before?
Centre-back - Winston Reid (West Ham)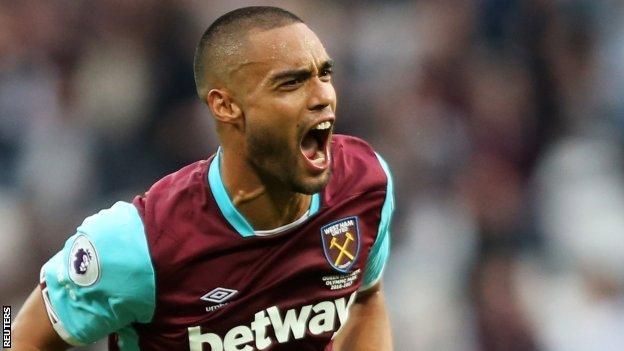 This is the second time in as many weeks that Winston Reid has made my TOTW.
Last week he battened down the hatches against Crystal Palace and this week he provided the goal that gave a lucky West Ham three points that were so desperately needed.
In the meantime, the Hammers are still struggling to come to terms with playing in their new stadium. That said, I do see a far more determined side these days, prepared to grind out results and not roll over just because things are proving difficult at the moment.
Centre-back - David Luiz (Chelsea)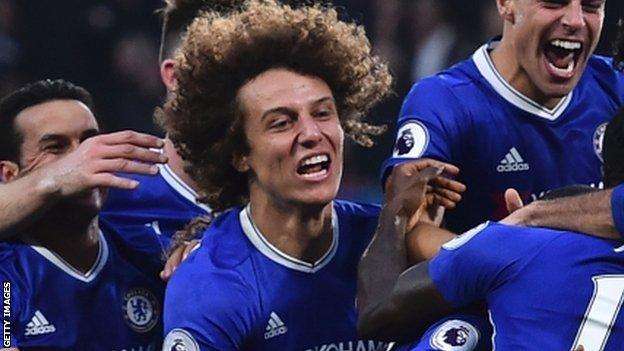 David Luiz seems to be taking enormous pride these days in keeping a clean sheets.
He was impressive against Leicester last week and even better against Manchester United this week. Chelsea manager Antonio Conte insists on playing three at the back and it seems to have focused the Brazilian's mind a little more on defensive matters.
Blues captain Gary Cahill has come through a difficult spell largely due to Luiz's presence and Cesar Azpilicueta, Luiz and Cahill now look like a trio with real promise. The big question for Conte is whether he will continue with this system once John Terry and Branislav Ivanovic are fully fit and come knocking on his door.
Right-back - Cesar Azpilicueta (Chelsea)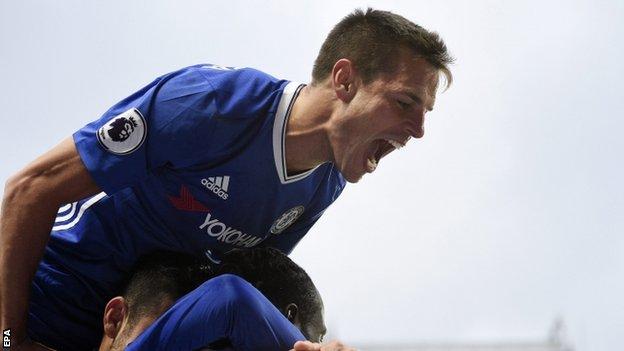 This lad is a top-class defender. He has played left- and right-back for Chelsea and he is now occupying a central defensive position and doing so brilliantly.
The Blues have now achieved their fourth clean sheet of the season, and walloped Manchester United and their old boss Jose Mourinho in the bargain. It's hardly surprising that Chelsea players are releasing pictures of themselves celebrating their victory in their dressing room on social media. Well, why wouldn't you?
Defensive midfield - N'Golo Kante (Chelsea)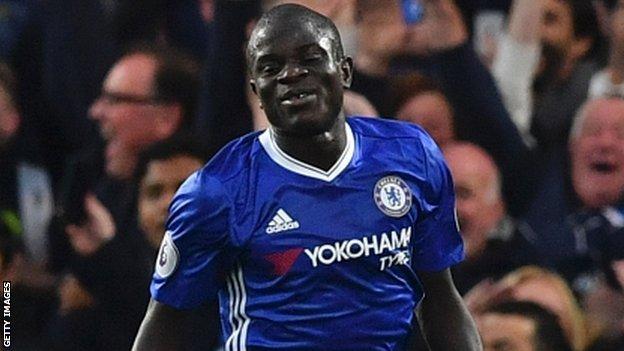 I don't think I've seen a team look more delighted or celebrate a goal more than when N'Golo Kante put Chelsea 4-0 up against Manchester United.
Admittedly, the celebrations signalled the complete and total demolition of United but it also signified the affection in which the Frenchman is held by his team-mates. What was even more impressive was the way Kante waltzed around defender Chris Smalling and slid the ball past keeper David de Gea with nonchalant ease.
Kante's performances have been so impressive this season that I have been left with no alternative but to put the France international on the early shortlist, with Manchester City midfielder Kevin de Bruyne, for the PFA player of the year - and we are only in October.
Right midfield - Xherdan Shaqiri (Stoke)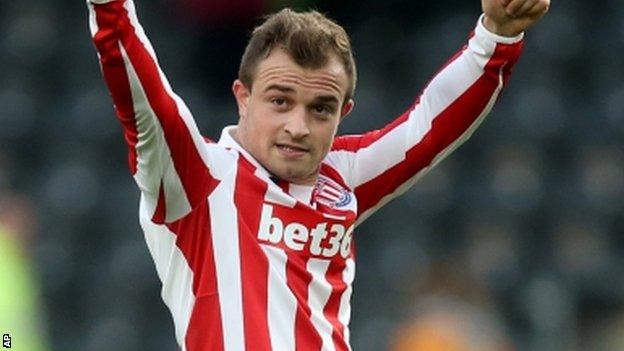 His first goal against Hull was stunning and his second on was almost as good.
I don't think I have seen Xherdan Shaqiri score an ordinary goal. And if Shaqiri's goalscoring exploits weren't enough to talk about, his passes for fellow midfielder Marko Arnautovic to run on to and exploit were absolutely wonderful.
We have, of course, seen Shaqiri in this mood before and are well aware that he can produce such amazing performances on a given occasion. The only problem for Stoke manager Mark Hughes is finding out beforehand when that occasion is likely to occur.
Centre midfield - Danny Drinkwater (Leicester)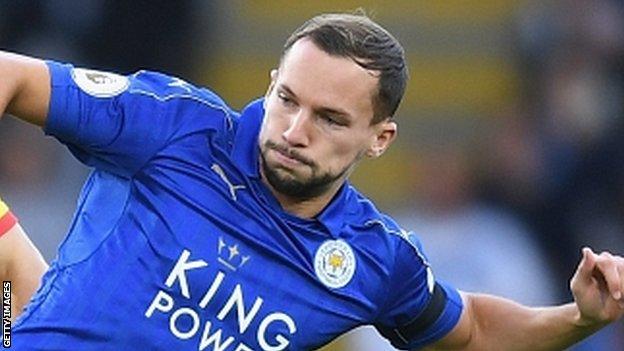 What would Leicester City be without Danny Drinkwater? Not very much is the answer. Last season it was Kante who provided the inspiration and this season it's Drinkwater who is the driving influence in the Leicester engine room.
The English international's influence on his team's performances seems to improve every time I see him. He has a wonderful composure about him and in many ways a similar game in style and culture to my Liverpool nemesis Graeme Souness, but without the assassin's creed.
Centre midfield - Philippe Coutinho (Liverpool)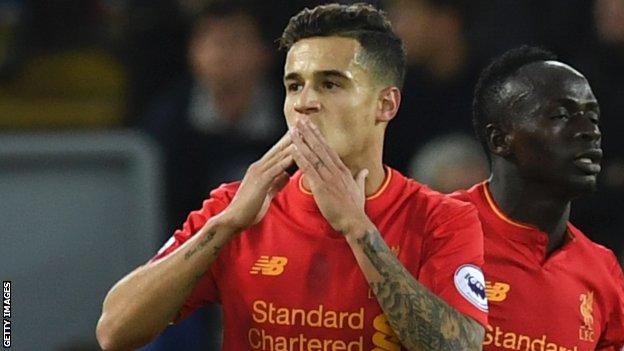 Philippe Coutinho is currently my favourite player in the Premier League. I said at the start of the season that if anything happened to Coutinho, Liverpool could kiss goodbye to a top-four spot.
However, what we are seeing now is a vibrant Liverpool being lead by a Brazilian who they must wrap in cotton wool. Coutinho makes Adam Lallana, Sadio Mane, Roberto Firmino and Georginio Wijnaldum all buzz.
If manager Jurgen Klopp can fix his defence in time for the second half of the season Liverpool could be serious title contenders. To allow it to drift would be a dereliction of duty.
Left midfield - Adama Traore (Middlesbrough)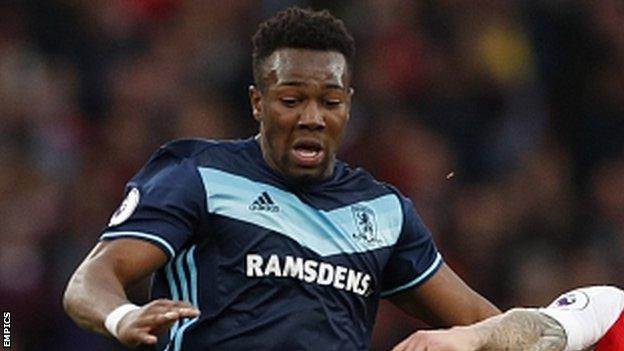 What a performance by the 20-year-old. Adama Traore was outstanding - he was a constant menace down Arsenal's flank and came very close to completely destroying manager Arsene Wenger's 67th birthday bash.
As it happens the game was a pretty dismal affair except for the flashes of brilliance from the Middlesbrough man.
It never ceases to amaze me how young foreign nationals are so willing to play abroad in order to extend their understanding of the game and development. The former Barcelona player has left one of the most glamorous cities in the world and the splendour of Nou Camp (and its stars Luis Suarez, Neymar and Lionel Messi) and eventually gone to Teesside in the hope that one day he might replace them.
Now that's what I call dedication.
Striker - Shinji Okazaki (Leicester)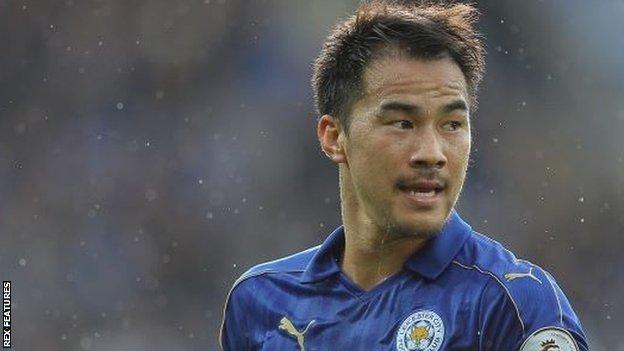 It's official - Leicester City's domestic season has officially started.
Shinji Okazaki's performance against a disturbingly ordinary Crystal Palace seems to have got the Foxes' Premier League campaign back on track. Manager Claudio Ranieri was somewhat concerned and slightly embarrassed that his team were basking in the glamour of the Champions League and paying scant regard to the performances that got them there.
However, this victory over Palace, stimulated by Okazaki's sheer energy and directness, provided Leicester with the platform for the victory and the points to go with it.
Last week Ranieri left out Okazaki against Chelsea - he returned and scored - and this week it was another striker Jamie Vardy who sat it out as the manager continued to shuffle the pack with Champions League fixtures in mind.
It looks like it could be Islam Slimani next week, but Ranieri needs to be careful. When the Champions League trap door suddenly opens, and it will, what is Ranieri going to feed his troops on then?