World Cup 2018: Russia choose Zabivaka the wolf as mascot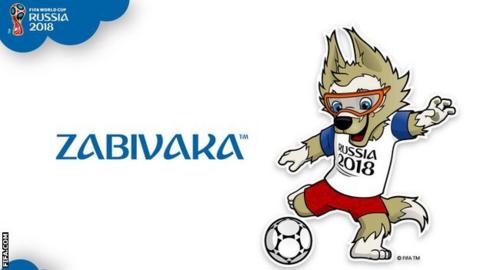 Russia have named Zabivaka the wolf as their mascot for the 2018 World Cup.
The wolf received 53% of the votes, beating competition from a tiger who got 27% and cat which collected 20% in the month-long voting process.
"I am sure Zabivaka will be a massive hit among fans at the Confederations Cup in 2017 and 2018 World Cup," said Russian sports minister Vitaly Mutko.
Former Brazil striker Ronaldo added: "Mascots are great ambassadors and bring so much joy to the stadiums."
Zabivaka's biography on Fifa.com:
He is charming, confident and social and has always dreamt of becoming a football star.
His favourite sporting pastime is playing football. He is a fair player, values his team members and respects his opponents, and he plays with skill and purpose.
He is always fun to be around - as the joker in the pack, he knows how to make others laugh.
He has taken to wearing cool sports glasses when he's in action; he believes they give him special targeting powers on the pitch. And he loves to pose for photos.