Bob Bradley: Swansea City boss backed by fans but mocked by Gary Lineker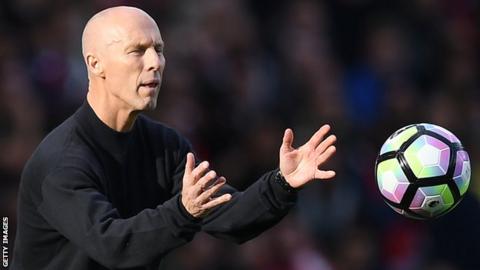 Bob Bradley will have a multitude of thoughts swirling through his mind before his first home game in charge of Swansea City - and one of his most pressing concerns will be what to wear.
Last Saturday's loss at Arsenal was a landmark moment for Bradley and American football, as he became the first man from the United States to manage in the Premier League.
Yet for all the footballing significance of the occasion, it was Bradley's outfit which proved the main talking point for many.
The 58-year-old wore what he considered to be an inoffensive combination of black sweatshirt and black trousers, but former England striker and Match of the Day presenter Gary Lineker was among those to mock his "appalling" jumper.
"I've already heard I've failed the dress test," Bradley says with a hearty laugh.
"My daughters told me they thought a pair of black slacks and a nice black sweater was fair enough but obviously Gary Lineker didn't.
"I thought a jumper was something a little girl wore to kindergarten."
So will Bradley change for Watford's visit to the Liberty Stadium on Saturday?
"I've got to now, I cannot wear that again," he says.
"Although if we win, no-one will care."
Once the laughter subsides, Bradley, sat inside an empty Liberty Stadium home changing room, turns his attention to the importance of Saturday's game.
Swansea are in desperate need of points, having failed to win in the Premier League since beating Burnley on the opening day of the season.
There were signs of encouragement in the 3-2 defeat at Arsenal but, with his team second from bottom in the table, Bradley knows improved performances mean little if the results do not follow suit.
"The need to get back on a good run, it's got to start somewhere. Everybody knows that," he says.
"As much as there were positives at the Emirates, we were disappointed not to take something. Now, coming back to the Liberty, given everything that's gone on, this match is important in all ways."
Meeting the fans
Bradley's arrival at Swansea coincided with what chairman Huw Jenkins has described as the most difficult period of his 12-year reign.
An American consortium led by Steve Kaplan and Jason Levien secured a controlling stake of 68% in the club in the summer, and the manner of the takeover has been met with scepticism and hostility.
Swansea City Supporters' Trust is considering taking legal action over the sale of the club's shares, with the supporters' body - which retains a 21% stake in the club - claiming it was not consulted and unable to buy more shares.
The Trust has voiced its support for Bradley, however, and the former United States and Egypt manager met some of its members this week.
"They've been a big part of getting this club to where it is, keeping this club where it is. They're going to keep you to a high standard in all ways," Bradley says.
"They make it very clear, 'We welcome you and you start with a clean slate', but they also make it very clear it is absolutely vital for us to be in the Premier League. It's vital for us to get better results - they spoke the truth."
It is difficult to imagine many other Premier League managers taking the time to meet fans in such a way - but Swansea are a unique case.
This is the only club in the division with a supporters' representative on the board, and Bradley knows from his previous jobs how important it is to form a bond with fans.
"The people in Stabaek [Bradley's former club in Norway] were very similar to Swansea. Different league - Tippeligaen [Norwegian top flight] is a smaller league but, when it's done well, it's very passionate," Bradley adds.
"It's on a smaller scale but, still, that group of supporters - I used to say the 'founding fathers of Stabaek' - that kind of relationship that I had with them makes it very easy to understand with the Supporters Trust the other day."
As he attempts to turn Swansea's fortunes around, Bradley wants to get to the heart of the club, to understand its heritage and sense of identity.
However cordial his meetings with fans are, though, he knows the sense of goodwill will soon diminish if results do not improve.
"I understand the situation I'm in when I arrived and I know how I'll be judged. But that's not for the players to worry about," he says.
"If you stand in front of the team and it shows it's the number one things on your mind, man you have no chance.
"For me it's trying to make sure we're focused on the right things and come match time it's time to go up a few notches."