Bayern Munich's Karl-Heinz Rummenigge: 'English clubs almost kidnap youngsters'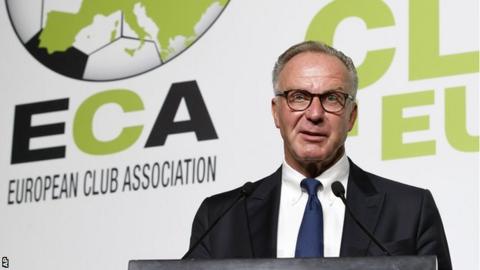 English clubs are effectively "kidnapping" young foreign players, says Bayern Munich chairman Karl-Heinz Rummenigge.
The German champions are opening a new youth academy next summer in the north of the city.
"We don't want to bring some 10- or 11-year-old to Munich like the English do," he told the club's magazine.
"You could almost speak of kidnapping with them and I would have moral reservations about that."
Clubs are not allowed to sign players aged under 18 from abroad, unless the deal meets one of three criteria - a player aged between 16 and 18 moving within the European Union/European Economic Area, a player moving less than 100km across an international border, or the parents moving to the new country for non-football reasons.
"Our priority will certainly be Germany and Bavaria," former international Rummenigge said.
"Our future talented players will much rather come from Rosenheim than Rio."