Atlantic League: 'A bad idea, but absolutely necessary'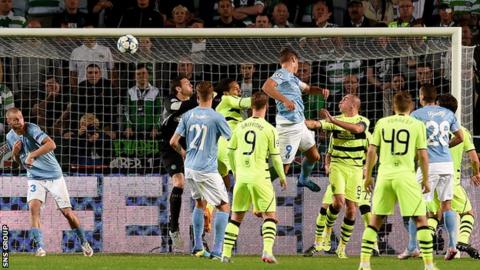 An Atlantic League could become a necessity for northern European clubs like Celtic and Rangers, according to the Danish Superliga's chief executive.
The idea of a cross-border set-up involving teams from Scotland, Netherlands, Belgium and Scandinavia has been around since 1999.
But Claus Thomsen thinks new Champions League rules make it more likely.
"It is not an option - it is a necessity that somebody does something else," he told the BBC World Service.
A reorganisation of the Champions League means Europe's top four leagues are guaranteed four places each in the tournament from 2018-19.
That will make it more difficult for clubs outside those leagues to qualify.
"This whole pyramid structure of European football is unique in professional sport and we should be very careful to preserve that value," Thomsen warned.
He says that, whereas the Atlantic League had originally been discussed as a breakaway from domestic leagues, it was now being viewed as an alternative to the Champions League.
Thomsen added: "The question will be will the Danish League open its calendar up for an Atlantic League or will we open it up for Champions League?
"And the consideration we will have in the Danish League will be what provides the most value to Danish football.
"And, if Uefa doesn't change its decision, it may very well be the Atlantic League that provides the most value.
"A breakaway tournament is a serious option. Should the Danish League make room for a Champions League, which we cannot play in, or should we make way for another European league arranged by somebody else?
"I think it is a basically a bad idea, but I think it is an absolutely necessary idea if Uefa leaves behind the principle of sporting merit being the basic value of European football."
Former Scottish FA chief executive Gordon Smith, who also had a spell as director of football with Rangers, told the same World Football programme that the Old Firm would be at the heart of any Atlantic League discussions.
"There have been talks ongoing now for about 20 years of different ways they could move it," he said.
"They are not happy - a lot of the smaller nations - that the bigger teams are getting an advantage in terms of seeding and that sort of thing."
"The money coming into Scottish football is very low compared to England and that is not going to change and the gap is going to grow.
"The two major clubs, Rangers and Celtic, because of the fan base, will be looking at this to think is there another way we can be involved in European football.
"If we don't get into the Champions League then it is a big loss."