Celtic's Leigh Griffiths '100%' behind Gordon Strachan for Scotland job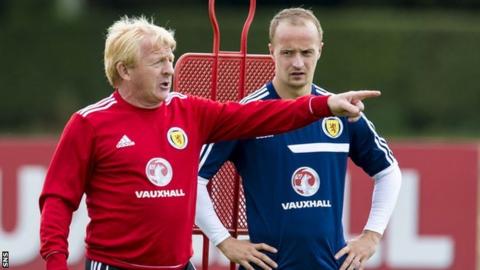 Leigh Griffiths insists Gordon Strachan is the right man to manage Scotland - despite failing to break into his team.
The Scots have fallen 13 places to 57th in the world rankings after a draw with Lithuania and defeat by Slovakia in their latest World Cup qualifiers.
Celtic's Griffiths was on the bench for both but says Strachan should lead the team for next month's game in England.
"There's no doubt in my mind that he's the man to try and get us to Russia - 100%," the striker told BBC Scotland.
"His training's great, the way he is with his players is magic, his man-management skills are second to none and who else could you bring in to replace him at this stage?"
Griffiths also responded to remarks attributed to Strachan suggesting he might prefer taller strikers because they were more useful at defending set-pieces.
The Scotland boss has come under increasing pressure to play Griffiths, who scored 40 goals for Celtic last season and has eight this term, as his main forward.
"It's one of those things," said the 5ft 8in frontman. "I think the fans are crying out for me to start, but ultimately it's not my decision, it's Gordon's.
"He's got to pick from a pool of 25 for his starting XI - he's also got to leave players out. I can understand it's a difficult job.
"I'm sure the comments were taken out of context. But I have a laugh about it. I'm not too worried about it.
"I'm short and I don't need anyone else to tell me that. But, if you put the ball in the box, I'm the first one to be challenging for it."
To compound a disappointing couple of weeks, Scotland have been overtaken in Fifa's rankings by group rivals Slovenia, who have jumped 15 places to 52nd.
Fellow Group F opponents England remain 12th, Slovakia are up two to 26th, Malta are down two to 178th, and Lithuania have made the biggest jump - 19 places to 98th.
The Scots next game is a trip to Wembley to face leaders England and Griffiths admits he is desperate to be involved.
However, the 26-year-old acknowledges that a more pressing issue is impressing club manager Brendan Rodgers.
"I'm struggling to get into the Celtic team just now, so I've no qualms about getting into the Scotland squad," he added after Wednesday's Champions League defeat by Borussia Monchengladbach.
"There's a lot of good strikers there who can't even get into squads - like Jordan Rhodes and Ross McCormack - who'll be disappointed.
"If I'm in the squad for that game, I'll be delighted and, when we go away, I'll try and change the gaffer's mind to see if I can fit in that system.
"But, if not, I'll be sitting on the bench ready to go on whenever he needs me."