Oxford United: Michael Appleton frustrated at missed opportunity against Coventry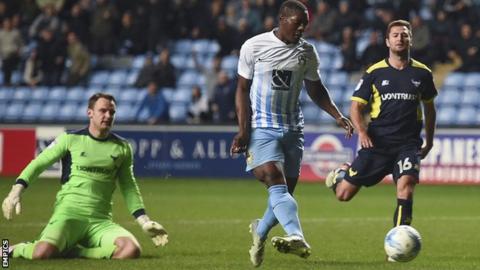 Oxford United manager Michael Appleton called on his side to back up their results to give themselves a chance of competing at the top end of League One.
The U's lost 2-1 at Coventry on Tuesday and missed the opportunity to climb into the division's top six.
"I asked the players in the dressing room at the end of the game, 'what do you want to be?'," said Appleton.
"In the second half of the season, if we want to be any type of contenders, we have to back results up."
Oxford, promoted automatically from League Two last season, lost for the second time in three games as they failed to capitalise on a 1-0 win against Bradford on Saturday.
"There's plenty of time to work on it," added Appleton. "But the reality in this game (against Coventry) is we've succumbed to a bit of pressure.
"We showed a bit of anxiety in the opening 10 minutes and that's unlike us."