Celtic v Borussia Monchengladbach: Teams should fear us at Celtic Park - Sviatchenko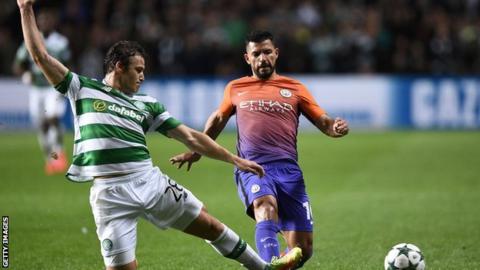 Champions League Group C: Celtic v Borussia Monchengladbach
Date: Wednesday 19 October Venue: Celtic Park, Glasgow Kick-off: 19:45 BST
Coverage: BBC Radio Scotland, BBC Sport website
Erik Sviatchenko says Borussia Monchengladbach should be "frightened" of Wednesday's Champions League clash with Celtic.
The German side have lost their first two group games, while third-placed Celtic drew with Manchester City at home last time out - their first point.
"Players come here, teams come here - they need to be frightened," Danish defender Sviatchenko said.
"We'll do our best to create that intensity towards the game tomorrow."
Sviatchenko says he thinks City's players found it tough to adapt to their surroundings in the thrilling 3-3 draw at Celtic Park last month.
But he has warned that the Bundesliga side, bottom of Group C, which is topped by Barcelona, are not to be underestimated.
"To draw a parallel to the City game, you could see that they were struggling even though they were really, really big stars," he said.
"[Monchengladbach] are a really good team, they have caused Barcelona problems. It's a team that have been really good the last couple of years in Germany and have done really well last year in this tournament."
A 50/50 game
Monchengladbach defender Christoph Kramer is adamant his team do not fear the atmosphere generated by the Celtic support, but admits a draw could be a good result for his side.
"Scottish football isn't as good as German football, but Celtic is a very good team," Kramer said.
"We have seen it against Manchester City, they can play well against every team in Europe. We don't play against a typical Scottish team, we're playing Celtic. They play in the Champions League because they are good.
"I think it's a 50/50 game."
Celtic manager Brendan Rodgers says he is not looking ahead to where his side could finish in Group C.
He said: "We're just looking at this next game. We know that we're in the most difficult group.
"This year's Champions League experience was going to be great learning for us, and from when we played against Manchester City we are a better team.
"We're getting better as each day goes on. The younger players are gaining more experience and this type of occasion here tomorrow is going to benefit the players."
'We're here to win'
Rodgers said the display against Pep Guardiola's Manchester City proved his side belonged among the Champions League elite, but now wants them to back it up with victory over the Germans.
"We're here to win, tomorrow night in particular," said the Celtic boss. "Our home games, we want to ensure we can get a victory.
"I think we always felt if we could be in European football after Christmas then that would be fantastic. The players in a very short space of time have made a lot of great strides.
"This competition was always going to help us on the journey in terms of development of players. You saw the performance against Manchester City - it was a real high level.
"We showed that we can compete at this level, but you've got to then back that up."