Doncaster Rovers Belles: Step to Women's Super League 1 'bigger than expected'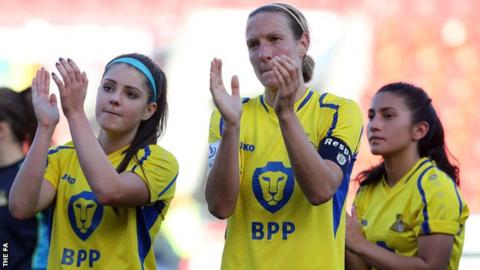 The step up to Women's Super League 1 was bigger than Doncaster Rovers Belles anticipated after promotion last season, says club chair Faye Lygo.
Their relegation to WSL 2 was sealed with two matches to play, by a 2-1 loss to Notts County last week.
Defeat was the Belles' 14th in 14 league games in 2016.
"It hurts," manager Emma Coates told BBC Sport. "Nobody wants to be relegated, let alone in the manner it's happened to us this season."
But what went wrong for a side that lost only one league match in 2015?
Strikers sidelined and a sporadic fixture list
The Belles received a big blow in April as striker Courtney Sweetman-Kirk - last year's top scorer in the WSL with more than a goal per game - suffered a broken leg.
England Under-23 forward Jess Sigsworth, who re-signed from Notts County in pre-season, was then sidelined with a cruciate knee ligament injury in August, after fellow striker Natasha Dowie left the club by mutual consent.
"The injuries for Courtney and Jess and the departure of Tash Dowie didn't help," said Lygo. "We were left quite sparse up front.
"We also had the big gaps between games, which didn't help with our continuity."
More then a month separated Doncaster's first two league games and, for large periods, they had six games in hand on their rivals.
"Once you accumulate all these things together, it's tough mentally for the players," added Lygo.
'Financially, it's a big jump'
"I also think that the step up to WSL 1 is even bigger than we anticipated. Financially, it's a big jump, a big adjustment for a small independent club," explained Lygo.
"The level of player is selected for you - somebody in their prime, starring in the international squad, is probably beyond our touch."
The Belles changed from being a part-time club to having some full-time and some part-time players for 2016, while the WSL's top teams are fully professional.
However, some clubs with part-time players have enjoyed comparatively good campaigns, with Birmingham City reaching the Continental Cup final.
Full backing for the manager
Doncaster's season took a surprise twist in June when Glen Harris left his position as first-team boss after three league games and was replaced by his assistant, Emma Coates.
Despite losing every league game since then, Lygo is giving Coates, 25, her full backing.
"She has the full support of the board," said said. "She fits in entirely with where we are going and how we see the club developing.
"She's hugely talented and has got a confidence and maturity beyond her years. We're thrilled to have her and have every intention of retaining her for next season."
Coates said: "The club has given me a massive break. It's been a good learning curve for myself."
A vow to bounce back
With the WSL switching to a winter calendar from next year after a transitional 'Spring Series' without promotions or relegations, the Belles will have to wait until at least 2018 before their next top-flight football.
"We're quite relaxed about it," said Lygo. "We're not afraid. We're bigger than one season and we have a 10-year plan."
Coates said: "It's a good chance for us to reflect and strengthen - we've got 18 months to make sure we get everything right.
"We have to really take advantage of that time. I have a plan which will now start taking shape."