Leigh Griffiths has John Robertson's sympathy after '#shorty' name change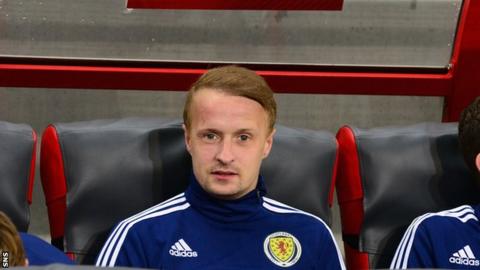 Ex-Scotland player John Robertson said he had sympathy for Leigh Griffiths after the Celtic striker changed his name on Twitter to '#shorty'.
Asked about the 5ft 8in Griffiths' role in the Scotland team, boss Gordon Strachan said tall players had an important role to play at set-pieces.
Robertson told BBC Scotland he believes his height - he is 5ft 7in - was part of the reason he only won 16 caps.
"It is a bit of deja vu and I'm feeling for Leigh at this moment," he said.
"I only got 16 caps and my first I didn't get until the age of 26, despite by that time having scored more than 150 or 160 goals."
Griffiths, 26, was a substitute for both of Scotland's recent World Cup qualifiers - the 1-1 draw with Lithuania and 3-0 defeat in Slovakia.
Fulham's Chris Martin started the first of those matches and Sheffield Wednesday's Steven Fletcher the latter. Both are 6ft 1in.
"I think there's a definite a way of thinking that there's two types of football," said Robertson, 52. "There's your domestic football where you're playing against guys who are maybe tall at the back and not as quick, or smaller and quicker centre-halves.
"But, when you play international football, defenders tend to be all very big and all very quick because they are the best of the best.
"Unless you are blindingly quick, or big and physical, your opportunities are going to be limited."
Strachan has suggested taller strikers are valuable when defending corners and free-kicks if there is a lack of height elsewhere in the team.
However, Robertson would still select Griffiths regardless, particularly at home.
"If it was just a height issue thing, Lee Wallace would be playing instead of Andrew Robertson and Kieran Tierney at left-back because he is bigger, stronger and potentially quicker," he said.
"If you are at Hampden and have the majority of the ball and want to create chances then Leigh Griffiths would be a no-brainer.
"Away from home, you might need to have a different look at it."
| Scotland strikers' form this season | |
| --- | --- |
| Steven Fletcher (Sheffield Wednesday) | Four goals from 13 appearances |
| Leigh Griffiths (Celtic) | Eight goals from 15 appearances |
| Chris Martin (Fulham) | Two goals from 15 appearances |
| Steven Naismith (Norwich City) | Three goals from seven appearances |
Strachan pointed to the fact Slovakia's third goal came from a corner, shortly after substitutions had reduced the average height of his side.
"The team was a lot smaller at 2-0 than it was at 0-0," said the Scotland boss. "And the first corner kick we get after that, they score with a header.
"You need a certain amount of height in international teams to defend set-plays."
Strachan, who insisted Griffiths was not destined to perennially be on the bench, stressed it was about balancing height throughout the team and that the Celtic striker is not the only one to suffer at times.
"Looking back at friendlies, we took Tierney off against Denmark I think because we were so small and we needed height on the pitch," he added.