Reuben Reid: Big Exeter City win was coming, says striker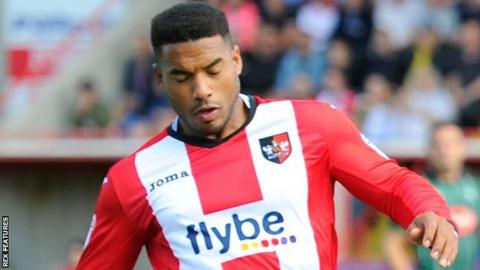 Striker Reuben Reid says Exeter City finally put in the performance they had threatened to do after their 4-1 win at Barnet in League Two.
The Grecians, who have earned just one point at home this season, got their biggest win since March at Barnet.
The victory lifted struggling Exeter out of the relegation places to 20th.
"We knew that type of performance and that win by that amount of goals was definitely in the lads," said Reid, who got his first Exeter goal in the match.
"We were talking about how we were due a win like that and hopefully that can give a few of the boys who may not have the belief in themselves a boost."
Only League Two leaders Plymouth Argyle have won more games away from home this season than Exeter, whose four wins have all come on the road.
"There are some recurring themes in our play, and we were able to make the good situations into good opportunities and then we took the opportunities," added Reid.
"We stayed on top of it and got the goals, which changed the situation very quickly. If we're leading a game, we're in a much better place mentally than when we are trying to chase a game."