Ben Gerring: Torquay United defender says he will learn from extended ban
By Brent Pilnick
BBC Sport
Last updated on .From the section Football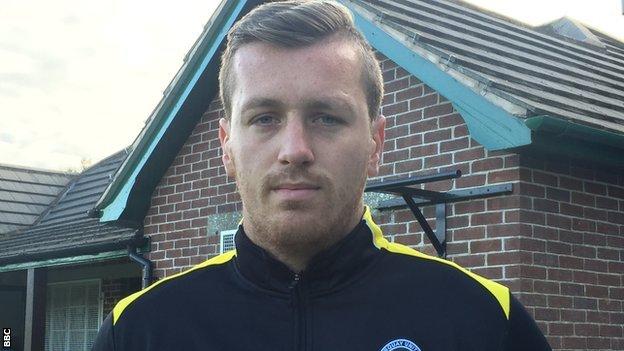 Torquay United defender Ben Gerring says he will learn from his extended suspension and come back stronger.
The 25-year-old had his four-game ban for his second sending off of the season at Gateshead extended by two games after he admitted making an offensive gesture to the crowd.
"I've got to learn from this because it certainly can't happen again," he said.
"I've used all my red cards up probably for the next two or three years so I've got to be a lot more sensible."
Gerring was also fined £300 for the gesture he made following his red card, a sum which he says hurt almost as much as the prospect of being sidelined until November:
"£300 to anyone at this level would be a kick in the teeth," he told BBC Sport.
"Having said that it can have the reverse effect, and it will have on me, because it's a lesson learned, I can't be chucking £300 and missing six games, especially when we've only played 15 games."
The former Truro City defender says he will now focus his efforts on making sure he is as fit as possible by the time he is able to return.
"I've set up a five-week plan so it's just going to be intense training - five gym sessions a week on top of what I'm doing," he added.
"The gaffer's given me the support and has said 'if you lose your legs in training because you are that tired due to what you're doing outside of football, then so be it'.
"I've got the go-ahead to completely blitz myself, so that come four weeks time, when I am able to play again I'll be miles ahead of where I should be and I'm ready to come in."