Truro City stadium developers could fund rival Stadium for Cornwall
Last updated on .From the section Football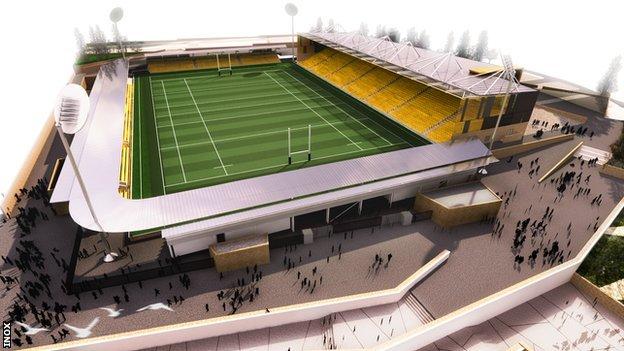 The firm behind the development of a new ground for Truro City say they are now willing to help fund the rival Stadium for Cornwall project.
Truro hope to move to a 4,000 capacity arena on the outskirts of the city.
Helical Retail, who plan to build on Truro's current home, had called for a judicial review into the planning permission for Stadium for Cornwall.
On Tuesday, Truro chairman Peter Masters said work on the new ground had been delayed until January.
"We believe there is a window of opportunity, before we press the button to start on the new stadium for Truro City at Silver Bow in the New Year, whereby we would be willing to consider using available funds we would be spending on Silver Bow to go towards the funding of the Stadium for Cornwall and to give the football club a major stake in that project as part of an alternative funding approach," Jonathan Cox of developers Helical Retail said.
Truro's planned new stadiums

Stadium for Cornwall at West Langarth
Silver Bow for Truro City

To be built by Inox Group and Henry Boot Developments

To be built by Helical Retail

Will house Championship rugby side Cornish Pirates

Will house National League South side Truro City

Initial capacity of 6,000

Initial capacity of 4,000

Funded by the building of retail developments, including a supermarket, at the site

Funding already in place as Truro have sold their current Treyew Road home
"We genuinely believe that this is a more realistic way of bringing the Stadium for Cornwall to fruition.
"However, we must not forget that, in view of the Truro City's current circumstances, the Truro City Shopping Park Development at Treyew Road must move forward quickly in order to meet legal deadlines."
Truro had planned to leave Treyew Road last summer, and for a while were set to share a ground with National League side Torquay United, but in March decided to stay at their current home.
Both the 6,000-capacity Stadium for Cornwall and the Silver Bow ground were approved in principle by Cornwall Council in July 2015, but work on neither site has yet to begin.
'I don't want to join the Stadium for Cornwall'
Truro chairman Peter Masters still wants the club to have its own ground, and still has a deal in place with Torquay.
"I give a commitment that we're going to get Silver Bow built," he told BBC Radio Cornwall.
"I don't want to join the Stadium for Cornwall, we've already been through all the bits and pieces, we want to keep on track whereby we build Silver Bow and Truro City move in there and they've got a facility they can then build form.
"The start date (for building work) was 21 October. It's now been put back to January. If there is a delay then we've got to find an alternative.
"I've purchased a two-year option at Torquay United, and if there is a two or three-month overlap then we may go up there.
"But saying that, it's all got to be approved by the league and it may well be that we continue playing at Treyew Road. There is no way that the club will be left groundless."
In response to Helical's offer to fund the Stadium for Cornwall, which will be built at West Langarth, not far from Silver Bow, the project's developers Inox say they would be open to discussions.
"We believe that West Langarth, combined with the £2m on the table from Truro and Penwith College, is still the best way to deliver the funding required to build the Stadium for Cornwall because it offers a private sector solution," the firm said in a statement.
"We have always been open to dialogue with Truro City and if Helical Retail are prepared to co-fund a multi-use stadium, rather than duplicate facilities by building another ground across the road at Silver Bow, where they are struggling to satisfy their planning timetable, then that is something we are prepared to discuss.
"But the prospect of any talks is made very difficult by Helical's ongoing threat of judicial review."