Woking manager Garry Hill criticises 'charity' defending by his team
Last updated on .From the section Football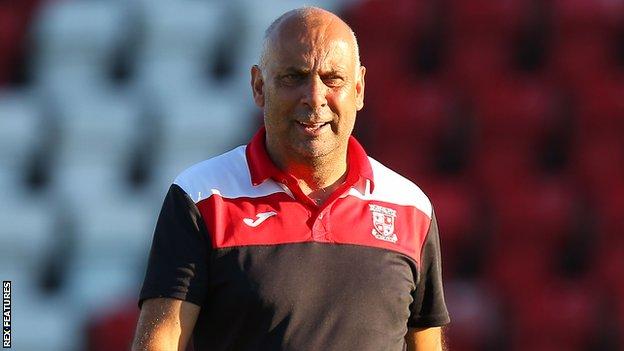 Woking manager Garry Hill says his side are giving away so many goals his defence "seem to be a charity".
The Cards have lost three of their last four National League games, conceding 12 goals in total, and are now two points above the relegation zone.
"We have got low on confidence just as it looked like were turning a corner," Hill told BBC Surrey.
"The club and the supporters deserve a lot more. As a squad of players and a staff we need to act quick."
He continued: "The goals we are conceding are very cheap and we are giving ourselves mountains to climb."
Last Saturday's 4-1 defeat at Sutton was Woking's ninth league loss this season and left the Surrey side 20th in the table.
Hill, who turns 57 on Saturday, questioned the commitment of his players after leaving Gander Green Lane empty-handed.
"You want to see people taking responsibility, standing up and being men," the former Dagenham & Redbridge and Weymouth boss added.
"I've had teams in the past where I have had to separate players at half-time and the end of the game from fighting each other - winning a game has meant so much to them.
"The problems at the present time are being caused by the Woking FC changing room, in respect of their application.
"I've got a boy who came out of the academy and went out on the pitch for 30 minutes and did more than eight or nine of the players. I can't accept what I saw out there in any way or form and I don't expect supporters to do that."