AFC Telford United: Troubled fan-owned non-league club seek external investment
Last updated on .From the section Football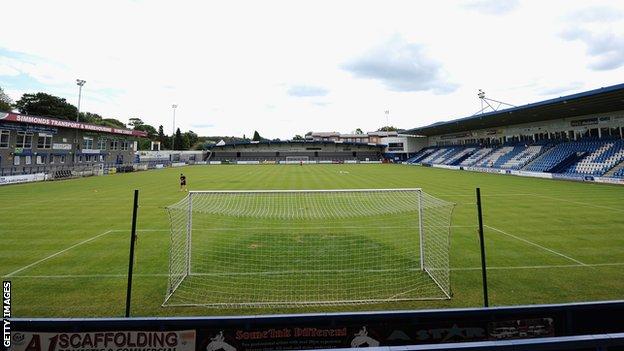 Fan-owned non-league club AFC Telford United need to raise £50,000 in extra income over the next two months.
The National League North side insist they are not on the verge of a reported financial disaster - but need to raise money to improve a cash flow problem.
They also want to change structure from being run by a Supporters' Trust.
"We have urged the Trust Board to enable changes to the ownership model of the club which would allow external investment," said a club statement.
"The club is not in a terminal state. However, we need to pull together now in order to avoid that possibility becoming a reality.
"We are now in a position where cash flow is extremely difficult. Income has fallen, particularly from gate receipts, and some key costs have risen.
"For the record, there is no winding-up order against the club nor are we aware of one pending. Players and off-field staff were paid on time at the end of September.
"Ideally, we need to raise £25,000 between now and the end of October, and the same by end of November. The primary way this can be done is obviously by generating as big a crowd as possible for Saturday's game."
Telford, relegated from the fifth tier in 2015, are now in danger of a further relegation. They are 19th in National League North - five points but just one place above the three-team relegation zone.
They host FC United of Manchester in a rearranged league game at the Bucks Head on Saturday (15:00 BST).
AFC Telford United was formed by fans in 2004 following the liquidation of the old Telford United.
Since being reformed at the eighth tier of English football, the Bucks have twice been promoted to (2011 and 2014) and relegated from (2013 and 2015) the fifth tier.
Analysis
BBC Radio Shropshire sports editor James Bond
"There has been speculation of Telford being on the brink, but an official statement we've just received sets out that there's no rumoured winding-up order against the club, and that all the players have been paid.
"Telford do have bills though - and extra help and support is needed to keep things going in the short term.
"In the longer term, to attract external investment - and we believe there are interested parties - the way the club is currently run by fans' committees needs to change. The process for that will start this week."