Kevin Nicholson: Torquay United boss hopes to conquer club's naivety
Last updated on .From the section Football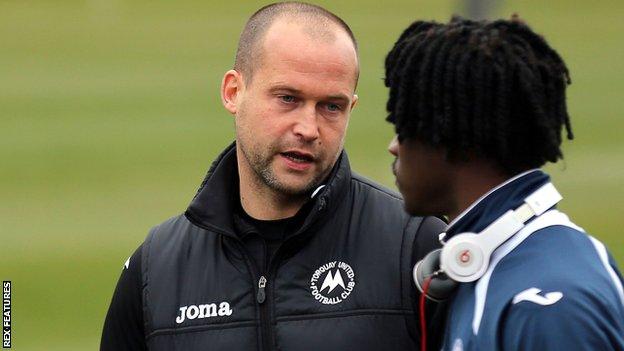 Torquay United's squad have to be less naive says manager Kevin Nicholson.
The Gulls lost 1-0 at Chester after Ryan Lloyd reacted quickest following Brendan Moore's penalty save.
"If you are a bit naive, if you dive in, or you don't follow in a penalty. Little things that if you're 28 and you've been around the block and you know the game you don't do," he said.
"But we are so honest and so young and so naive at times we make the basic mistakes," Nicholson told BBC Devon.
Nicholson says he is at fault as he has not instilled in his side the need to ensure they do the simple things well.
"I can't assume that they know the basics, I have to make sure that I tell them every day in training because that's my fault," the 36-year-old player-manager added.
"Them not following a penalty in is not necessarily their fault, if they've not been told to do it, as basic as that sounds, that's my fault.
"I've got to make sure that I get more detailed and make sure that I give them that information."