Gerard Pique: Spain defender to quit international football after World Cup
Last updated on .From the section European Football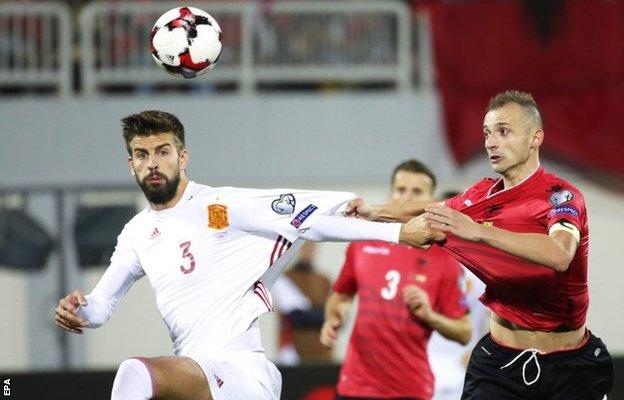 Spain defender Gerard Pique will retire from international football after the 2018 World Cup following a controversy surrounding his shirt sleeves.
The Barcelona player, 29, is unpopular with some Spain fans for his support of independence for Catalonia.
In Sunday's 2-0 win in Albania, his shirt - unlike his colleagues - did not have a Spanish flag trim on the sleeve.
After social media criticism, the Spanish FA released a statement to explain why, and defend Pique.
Pique was wearing the long-sleeved shirt - as was Real Madrid captain Sergio Ramos - which does not feature the flag trim.
The statement said that Pique had cut the sleeves off his shirt, "the same way other players have done on many occasions," for comfort.
Pique, who won the 2010 World Cup and Euro 2012, said: "I have tried everything, but I can't bear this anymore.
"Today's issue of the sleeves is the the straw that breaks the camel. They've managed to make me lose the excitement of coming here and although after Russia I'll only be 31, I'll leave."