Will Norris: Cambridge United goalkeeper is 'best' in League Two
Last updated on .From the section Football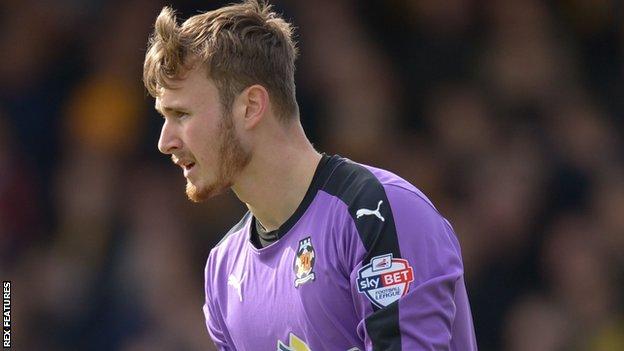 Cambridge United goalkeeper Will Norris is the best in League Two, according to manager Shaun Derry.
"I think I've got the best number one in the division, I really do, and I've said that for a while now," Derry said.
"He's a fantastic young goalkeeper who's really coachable. I think when you look at those aspects he's got a hell of a chance."
Former Crystal Palace, Portsmouth, QPR and Leeds midfielder Derry says Norris, who joined the U's in 2012 from non-league Royston Town, could end up playing at a much higher level than the fourth tier.
Derry told BBC Look East: "I look at some of the goalkeepers that I've played with and some of the ones who have gone on to bigger and better things and I think Will Norris has got a great chance.
"He's here, he's our number one, he's loving playing for the football club and he's producing some really top performances."
Norris has saved four penalties this season, having previously stopped spot-kicks at Doncaster Rovers in the league and Wolves in the EFL Cup.
"It's nice to do my bit for the team when called upon," Norris told BBC Look East. "I like to go under the radar and have quiet games and just do my thing when called upon.
"It is nice to get the praise, but if we were doing it for the praise we'd have been strikers back when we were kids.
"I've taken the goalkeeper path, which is a bit of a thankless task at the end of the day."