Brighton consider installing safe standing area at Amex Stadium
Last updated on .From the section Football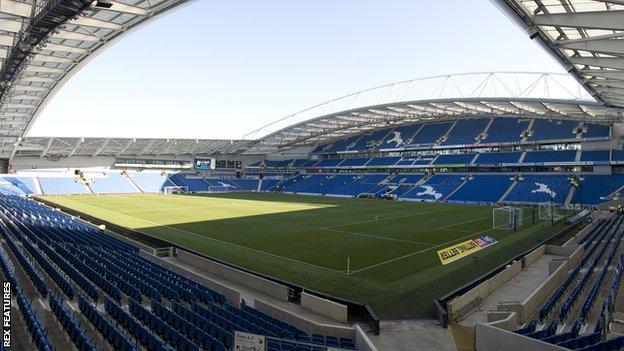 Brighton & Hove Albion are exploring the possibility of installing limited safe standing at the Amex Stadium.
The Championship club will consult supporters about their plans, but they will be unable to carry them out until the government changes legislation.
"If we can afford it and legislation allows us, we are open-minded to see if we can make it happen," Albion chief executive Paul Barber told BBC Sussex.
"There are a lot of hurdles for us to overcome first."
English Football League clubs backed calls for the introduction of safe standing areas in 2014.
Scottish Premiership club Celtic installed 2,900 rail seats ahead of the start of this season and Barber has visited both Celtic Park and German Bundesliga outfit Borussia Dortmund as Albion consider their options.
"A few years ago this wasn't on our agenda but we have got to understand the rail seating options in a lot more detail," Barber added.
"There has been a significant movement in the sentiment from the football authorities, and the government, in giving some supporters [the option] to stand and watch the game.
"If we can do that safely - and not a return to the swaying terraces of the 1970s and 1980s - then we are open to looking at it.
"We have to make sure the engineering can work, there is enough of an appetite from fans, get approval from our local authority and ultimately then weigh up all the costs."