World Cups awarded to Russia & Qatar 'helped clean football' - Fifa vice-president
Last updated on .From the section Football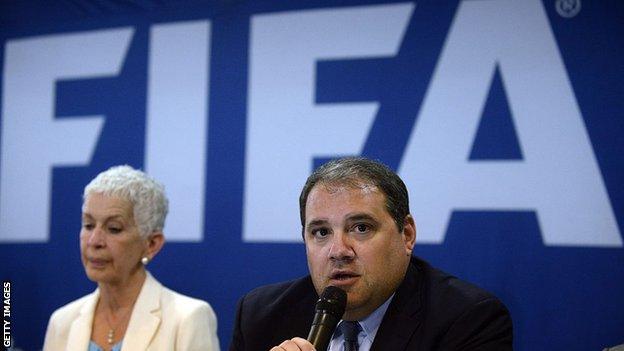 The decision to award the 2018 and 2022 World Cups to Russia and Qatar "may be the best thing" for football, says Fifa vice-president Victor Montagliani.
Since the tournaments were awarded in December 2010, widespread corruption has been exposed in the global game.
Prominent figures, including then Fifa president Sepp Blatter, have been banned.
"I think that was the tipping point for things to happen," said Montagliani.
"If Russia and Qatar had not got these World Cups, would we be in this situation now with an opportunity to clean the game?
"If England and the US had got the World Cup, maybe we would've had status quo.
"Maybe the best thing that happened in football was Russia and Qatar."
Montagliani was elected president of the Confederation of North, Central American and Caribbean Association Football (Concacaf) in May.
The two previous Concacaf leaders - Jeffrey Webb and Alfredo Hawit - were banned by Fifa's ethics committee as part of the investigation into corruption within Fifa.
'World Cup won't stay at 32 teams'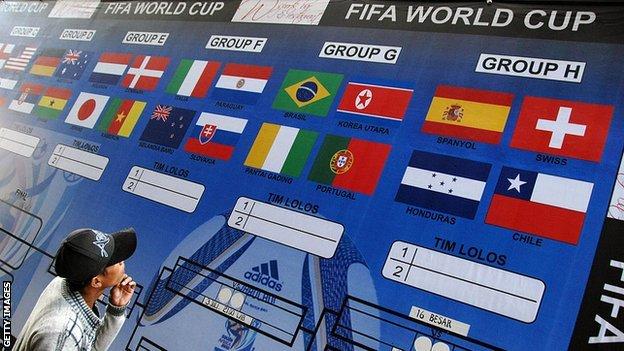 Montagliani, speaking at the Leaders 16 summit in London, also said it was "obvious" that the World Cup would be bigger than 32 teams by 2026.
Fifa president Gianni Infantino, who succeeded Blatter in February, recently proposed expanding the tournament to 48 teams.
"I think it's going to change," Montagliani added.
"I think it's an opportunity and I think the president's right to really look at it."
Montagliani also expressed a desire to bring the World Cup back to the Concacaf region for the first time since the United States hosted the tournament in 1994.
"We have three countries [United States, Canada, Mexico] who could put a World Cup on on their own," he said. "In terms of a regional [shared] bid, there's an opportunity too."